Apple Macbook Pro 13" - Z16S000P0 Apple M2 Chip 16GB 512GB SSD 13.3" Retina IPS LED Display With True Tone Backlit Magic Keyboard & Touch ID & Force Touch Trackpad (Space Gray, 2022)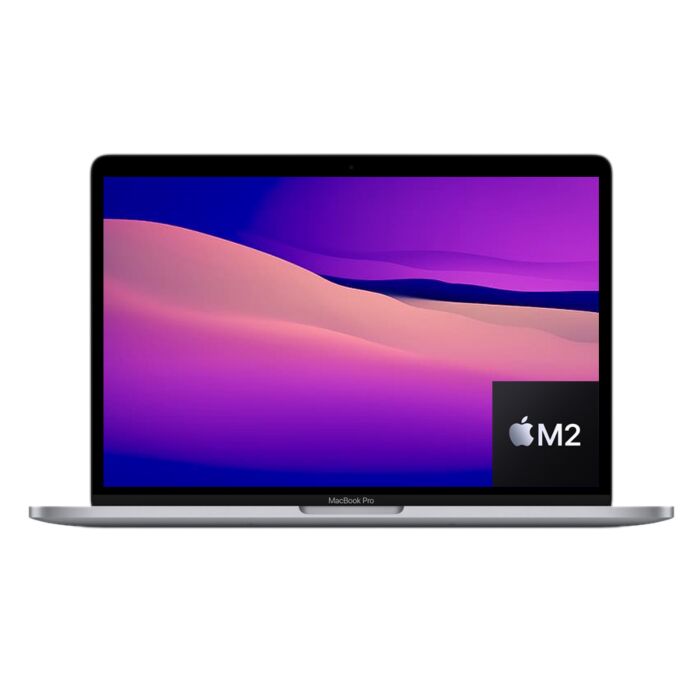 Specifications

| | |
| --- | --- |
| Brand | Apple |
| Generation | No Generation |
| Processor Type | Apple M2 Chip |
| Processor Speed | Apple M2 chip with 8‑core CPU, 10‑core GPU, 16‑core Neural Engine |
| Installed RAM | 16GB |
| Type of memory | 16GB Unified Memory |
| Hard drive size | - |
| Hard drive speed | - |
| Optical Drive | N/A |
| Type of optical drive | N/A |
| SSD | 512 GB SSD |
| Type of harddrive | 512GB SSD |
| Dedicated graphics | - |
| Graphics memory | - |
| Type of graphics memory | - |
| Switchable graphics | No |
| Graphics processor | Apple M2 Chip |
| Backlight | Yes |
| Screen size | 13-inch Retina display with True Tone |
| Screen surface | 13-inch Retina display with True Tone |
| Screen resolution | - |
| Touchscreen | No |
| Color | Space Gray |
| Weight | 2.8 KG |
| Fingerprint Reader | Yes |
| Numeric keyboard | No |
| Backlit keyboard | Yes |
| Bluetooth | Yes |
| LAN | No |
| Speed | - |
| Wireless/Wifi | Yes |
| Type | - |
| Condition | New |
| Warranty | International |
Apple Macbook Pro 13" Z16S000P0
Apple came up with a modernized MacBook Pro, Z16S000P0 in its standard 13" size but with the latest M2 chip. The price may vary depending on the configuration. This particular laptop has 16 GB of unified memory and 512 GB of SSD storage and you can easily tell it has an M2 chip by looking at the 8-core CPU and 10-core GPU specs. It offers better graphics, better performance and offers a great battery life in comparison to the M1 model.
Processor
Packed in the tried-and-true design, the latest MacBook Pro 13 with the M2 chip performs way better than its M1 predecessor as well as Intel competitors. It is the second generation of Apple silicon-based processors, also known as, System on Chip (SoC). This is because there is a whole system controlling the laptop arranged on a chip sharing a unified memory for faster and more efficient performance. 10-core GPU, 8-core CPU, 16-core Neural Engine, etc. all are connected. Moreover, you do not need to have a separate graphics card installed to stream videos. The 10-core GPU is sufficient to let you stream 2 streams of 8K media and 11 streams of 4K media without any issues.
Storage and RAM
Having a whopping 16 GB of unified memory ensures a speedy performance and with 512 GB of Solid State Drive, this notebook can easily suffice your productivity needs. Please note that the duo also helps in reducing the system's boot time.
Display
The display is no different from the previous M1 predecessor. You get the same 13" Retina Display with True Tone technology, high brightness and good colour reproduction. Apple's True Tone colour optimization feature adjusts brightness and colour automatically according to external lighting conditions.
Build and Design
In terms of looks, the M2 MacBook Pro looks the same as the M1 MacBook Pro. This version comes in Space Gray colour. Also, just like previous models, this too has an aluminium chassis with a smooth exterior and a shiny mirror-like Apple logo in the dead centre of the lid. The overall weight of the device is around 1.4 kg and it bears the dimensions, 0.61 x 12 x 8.36 inches (HWD).
Moving on to the keyboard, the Magic Keyboard feels comfortable to use and has a backlit feature to let you use it even in dimly lit environment. That said, the Force Touch trackpad is also spacious on this notebook and offers pressure-sensitive controls. Moreover, to suffice the touch-input need of a Mac user, Apple has included a Touch Bar and a fingerprint scanner as well. You can use the Touch ID feature to securely log in to your system quickly without having to physically enter passwords every time.
Cooling System
Now, this line-up does not rely on passive cooling, instead, it uses fans to keep the internal components cool. Since the cooling system performs well, the device performs well too and offers higher peak performance even when using it for demanding workloads without getting overheated.
Siri
You all are familiar with the 'Hello Siri' feature on iPhone. Well, Apple has included this feature in all its products including MacBook Pro 13 Z16S000P0. All you have to do is say, "Hello Siri," followed by your command to let the virtual assistant execute it for you, be it, typing an email, sending a message, making a call, playing music, setting reminders or opening and closing apps.
Camera and Speakers
As for the camera, this notebook has the same 720p resolution webcam for video calling. In terms of sound, the stereo speakers provide a great dynamic range with even greater audio quality. Also, the system supports Dolby Atmos for a theatre-like sound whether you use the speakers for audio or connect wireless Airpods.
Battery
Apple claims this notebook provides extra two hours of life with its larger 58.2 WH Lithium polymer battery. You get a fantastic 22-hour of long battery life in total, which is enough to let you stay productive from sun up till sun down. Moreover, the device gets quickly charged with the 67 W USB-C power adapter.
Ports and Connectivity
In terms of port selection, you get a 3.5 mm headphone jack, a Thunderbolt 4 port and an oval USB-type C port. You can also use a USB-C port to charge your device and use the Thunderbolt 4 to connect to external monitors. However, this port supports just one external display and that too with a resolution of 6K only. Moreover, this latest version supports Wi-Fi 6E for faster internet connectivity.
Warranty
Get an international warranty card with your purchase of MacBook Pro 13" Z16S000P0.
Order Now
Get your hands on the latest laptop from the MacBook Pro product line and enjoy the performance with the M2 chip. Please note, that you get additional benefits when placing your order with us, such as free shipping anywhere in Pakistan when you pay online and a Cash-on-Delivery service for free for orders placed in Karachi, Lahore or Islamabad.
Having said that, you can buy genuine Apple products from Paklap as well, at the best possible rates. We provide an international warranty on all Apple products. If you have more queries regarding this laptop or any other product on our website, please call us at 0304-1113005 or leave a message on our Live Chat Facility. One of our customer service representatives will be at your assistance in no time.