Apple Macbook Pro 14 MTL83 - Apple M3 Chip 8-Core CPU 10-Core GPU 8GB 1-Terabyte SSD 14" Liquid Retina XDR Screen Display Backlit Magic KB Touch ID & Force Touch TrackPad (Space Gray, 2023)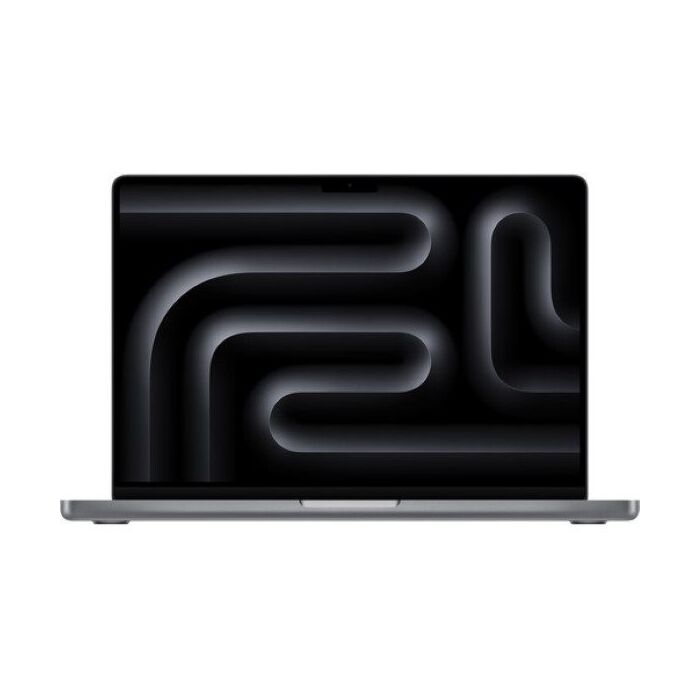 Specifications

| | |
| --- | --- |
| Brand | Apple |
| Generation | 13th Generation |
| Processor Type | Apple M3 Chip |
| Processor Speed | 8-core CPU, 10-core GPU & 16-core Neural Engine |
| Installed RAM | 8GB |
| Type of memory | 8GB Unified Memory |
| Hard drive size | 1 Terabyte |
| Hard drive speed | 1 Terabyte Solid State Drive |
| Optical Drive | - |
| Type of optical drive | - |
| SSD | 1 TB SSD |
| Type of harddrive | 1 Terabyte Solid State Drive |
| Dedicated graphics | Apple M3 Chip |
| Graphics memory | 10-core GPU |
| Type of graphics memory | Apple M3 Chip |
| Switchable graphics | No |
| Graphics processor | Apple M3 Chip |
| Backlight | Yes |
| Screen size | 14.2-inch (diagonal) Liquid Retina XDR display;1 3024-by-1964 native resolution at 254 pixels per inch |
| Screen surface | 14.2-inch (diagonal) Liquid Retina XDR display;1 3024-by-1964 native resolution at 254 pixels per inch |
| Screen resolution | 3024-by-1964 |
| Touchscreen | No |
| Color | Space Gray |
| Weight | 3.4 pounds (1.55 kg)7 |
| Fingerprint Reader | Yes |
| Numeric keyboard | No |
| Backlit keyboard | Yes |
| Bluetooth | Yes |
| LAN | No |
| Speed | - |
| Wireless/Wifi | yes |
| Type | Wi-Fi 6E (802.11ax)6 |
| Condition | New |
| USB | Fast-charge capable with 96W USB-C Power Adapter |
| HDMI | No |
| Camera | 1080p FaceTime HD camera |
| Operating system (Primary) | MAC OS |
| Manual | https://www.apple.com/macbook-pro/specs/ |
| Product page | https://www.apple.com/macbook-pro/specs/ |
| Warranty | International |
Apple MacBook Pro 14 MTL83 with M3 Chip Space Gray in Pakistan
This Apple MacBook Pro 14 MTL83 is another results-oriented model that can be your most valuable asset. This laptop offers cutting-edge features and durable components that can add real value to your personal and professional value.
It has an M3 chip, which contains a unified architecture. The 10-core GPU, 8-core CPU, and unified 8 GB RAM are some of the prominent specs of the model that can fulfill your different personal and professional requirements.
The superb battery life of around 22 hours can also help you stay focused on your work by avoiding the disruption of charging the device again and again.
Here are some more details that will give you a better understanding of this model.
Design
The all-aluminum body protects the device from usual wear, tear, and scratches, so you can also consider it for traveling. The Space Grey color of M3 MacBook enhances its visual appeal. Apple's logo on the back of the lid also makes the laptop look more beautiful.
A fingerprint reader is also provided, which not only helps you access the device quickly but also makes it secure. It weighs around 1.5 kg, so you can easily handle it whether you are a remote worker or a full-time office employee. Also, it can be ideal for businessmen who frequently travel to attend meetings.
M3 Chip
The M3 chip stands out from the M1 and M2 chips in terms of performance. Furthermore, it is the only chip of the MacBook that has the most efficient 3nm processor.
To be more precise, Apple claims that the M3 family offers better rendering performance, which is 2.5 times faster than M1 and 1.8 times faster than M2.
The latest M3 chips contain around 25 billion transistors with an 8-core CPU and 10-core GPU of unified memory. It can boost the processing speed, which is a plus point for users with heavy-duty requirements.
RAM and Storage
A user who only deals with casual activities like browsing the internet or playing mid-range games may consider 8GB unified RAM ideal. This RAM size is sufficient to switch to different tasks easily, according to your preference. You may need higher memory if you need better performance for multitasking.
The storage capacity should be satisfying for you as MacBook MTL83 contains 1 TB SSD, which provides you sufficient space to manage heavy data flow. The benefit of having SSDs is that they are more energy-efficient than standard hard drives and also offer better speed. Additionally, a 1 TB SSD can boot up the operating system more rapidly and improve the loading time of all applications.
Display
The 14.2-inch display of Apple MTL83 offers superb visual clarity. It is a liquid Retina XDR display that was engineered by Apple to meet the company's standards. The True Tone display technology is integrated into the display, which provides a responsive viewing experience to users in different types of environments.
The screen resolution of 3024 x 1964p also positively impacts visual clarity and helps you view the screen clearly from different angles. Furthermore, 1000 nits of brightness delivers incredible visibility for HDR content. The refresh rate of 120 Hz also makes the visuals appear smoother on your screen, which further elevates the visual quality.
Graphics
The dedicated 10-core GPU sets the high standards in terms of performance. Whether you are a casual user or a mid-range gamer, this GPU can be the perfect fit for different types of users who have diverse graphical requirements. A high-quality video engine is installed in the GPU, which also increases the worth of this laptop.
The higher core count and ray tracing support are also some noteworthy features of the GPU. The new architecture is installed in the GPU, which makes it a better choice than its predecessors. Also, there is no shared memory, and it is based on the 5 nm processor, which has higher transistor density and better power consumption capabilities.
Keyboard and Trackpad
The excellent layout of this laptop's Magic keyboard reduces the strain on your wrist and hands and allows you to conveniently type text. The comfortable keys allow you to type without putting much force, so it ensures an exceptional user experience. It is a backlit keyboard, so you can also easily work at night.
The smooth trackpad also makes swiping comfortable for you. It saves your effort and time when you are scrolling down your favorite content or using your laptop for research purposes.
Other Specs
There are some other prominent features of the laptop that you must know about. It has Wi-Fi 6E, HDMI, and Bluetooth support, which makes the device more usable and can be useful for your professional or personal requirements.
It also has a 1080p HD FaceTime camera, which is well-suited for individuals who regularly have to attend video conference meetings.
The presence of a six-speaker sound system delivers outstanding sound quality. Whether you are watching movies or just random videos on YouTube, the sound clarity is amazing, and you do not even need headphones.
The bonus point is that there is built-in encryption and virus protection in every MacBook, which protects your device against different threats.
Buy Apple MacBook Pro 14 MTL83 in Pakistan
If you are looking for a one-time investment and want a top-notch laptop that can last for years, then you must opt for the Apple MTL83 model. It may seem costly to you, but in the long run, it can prove to be your most precious asset that will add real value to your life.
While buying anything from Paklap, you do not have to worry about the quality as we have years of experience dealing with top and reliable brands in the computing industry. You may check out customer reviews on our website, which shows our credibility as a trustworthy retailer of computing systems in Pakistan. You may reach out to us by simply contacting us at 0304-111-3005. You can also get in touch with our customer representative team by contacting them through our website.
Brand New Apple MacBook Pro 14 MTL83 M3 Chip 8 Core CPU & 10 Core GPU with 8GB RAM & 1TB SSD Space Gray Color 2023 Model Latest Price in Pakistan is Rs. 672,900. Paklap offers Free Cash on Delivery Services in Lahore, Karachi & Islamabad.