Apple Macbook Pro 14 MTL73 - Apple M3 Chip 8-Core CPU 10-Core GPU 8GB 512GB SSD 14" Liquid Retina XDR Screen Display Backlit Magic KB Touch ID & Force Touch TrackPad (Space Gray, 2023)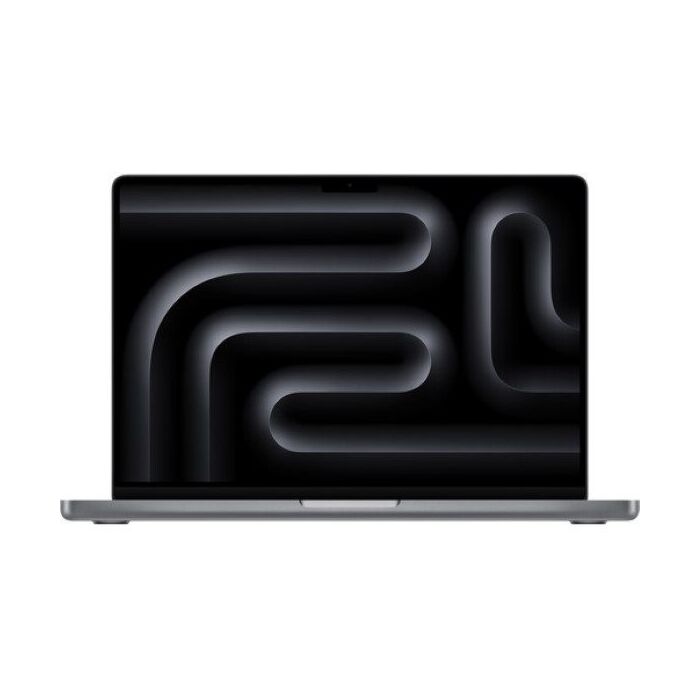 Specifications

| | |
| --- | --- |
| Brand | Apple |
| Generation | No Generation |
| Processor Type | Apple M3 Chip |
| Processor Speed | 8-core CPU,10-core GPU&16-core Neural Engine |
| Installed RAM | 8GB |
| Type of memory | 8GB Unified Memory |
| Hard drive size | - |
| Hard drive speed | - |
| Optical Drive | _ |
| Type of optical drive | - |
| SSD | 512 GB SSD |
| Type of harddrive | 512 GB Solid State Drive |
| Dedicated graphics | Apple M3 Chip |
| Graphics memory | 10-core GPU |
| Type of graphics memory | Apple M3 Chip |
| Switchable graphics | No |
| Graphics processor | Apple M3 Chip |
| Backlight | Yes |
| Screen size | 14.2-inch (diagonal) Liquid Retina XDR display;1 3024-by-1964 native resolution at 254 pixels per inch |
| Screen surface | 14.2-inch (diagonal) Liquid Retina XDR display;1 3024-by-1964 native resolution at 254 pixels per inch |
| Screen resolution | 3024-by-1964 |
| Touchscreen | No |
| Color | Space Gray |
| Weight | 3.4 pounds 1.55 kg |
| Fingerprint Reader | Yes |
| Numeric keyboard | No |
| Backlit keyboard | Yes |
| Bluetooth | Yes |
| LAN | No |
| Speed | _ |
| Wireless/Wifi | Yes |
| Type | Wi-Fi 6E (802.11ax)6 |
| Condition | New |
| USB | Two Thunderbolt / USB 4 ports with support for: Charging DisplayPort Thunderbolt 3 (up to 40Gb/s) USB 4 (up to 40Gb/s) |
| HDMI | No |
| Camera | 1080p FaceTime HD camera Advanced image signal processor with computational video |
| Operating system (Primary) | MAC OS |
| Manual | https://www.apple.com/macbook-pro/specs/ |
| Product page | https://www.apple.com/macbook-pro/specs/ |
| Warranty | International |
Apple MacBook Pro 14 MTL73 with M3 Chip Space Gray in Pakistan
The MacBook Pro 14 is one of the top-tier laptops that offers great value to users. With the latest M3 Chip, you can experience incredible speed delivery and execute different tasks smoothly. The top-notch graphical results also make this model stand out from its predecessors. The stellar mini-LED display, a long-lasting battery of around 14 hours, and sufficient ports are some of the major highlights you need to know. You may find it pricey, but your investment is surely worth it. Let's find out more relevant details.
Design
The super strong aluminum chassis of the laptop ensures long-lasting durability, which is available in space gray.
A fingerprint reader is also provided, which allows you to sign on the device quickly without wasting any time. Its dimensions are 12.31 x 8.71 x 0.61 inches, and it weighs around 1.5 kg, which means you can carry the device easily.
The presence of a backlit keyboard also improves usability and makes the laptop usable for you in different types of surroundings. The overall design of the model is simple as it has a plain color scheme, which gives decent vibes. The port selection is also on the plus side, so full marks go to the design.
M3 Chip
The M3 is one of Apple's latest SoC chips, which is specifically manufactured for iPads and Macs and is also known as a "System on a Chip." The unified memory architecture is integrated into the chip, which contains different components, including GPU, CPU, neural engine, SSD controller, and signal processor.
With a unified memory architecture, processor components can access the same data pool, which positively impacts the processing speed and performance. With this memory architecture, RAM is not upgradable, which should not be a major concern because Macs usually do not offer this option.
The M3 chip contains 8 cores in the CPU 10 cores in the GPU, and the neural engine has 16 cores, which elevates the overall performance big time. Whether you need something for high-level gaming or resource-intensive tasks, you can expect quality results from this chip.
RAM and Storage
The most important components of any computing system are storage and RAM, so you need to be mindful while choosing it. The Apple MacBook Pro 14 MTL73 is equipped with 8 GB of unified RAM, which ensures speedy data retrieval and storage. Professionals who work on demanding applications, such as web developers, programmers, and data analysts, will find it ideal.
Additionally, 512 SSD gives you enough room to store and manage your data as well. The SSD guarantees lightning-fast speed, enabling you to complete your tasks with ease. You can accomplish more tasks in less time thanks to the lag-free performance that this optimal RAM and storage combination offers.
Display
One of the best 14.2-inch (diagonal) liquid retina XDR displays found in a MacBook is installed in the Apple MTL73 model, and it provides excellent display quality. With a refresh rate of 120Hz and a screen resolution of 3024 x 1964p, frame rates appear more smoothly on the screen.
It will be a realistic viewing experience for you whether you are playing games or watching movies. Additionally, if you are thinking about getting something for professional use, this display might be the best option. Because the display panel has been put through laboratory testing, its 1,000 nits of accurate brightness guarantee an immersive visual experience. In simple words, this display can be a good choice for any user and is well-designed for all types of activities.
Graphics
If you are a gamer or work on graphics-intensive applications, then graphical quality must be important to you. The MacBook MTL73 contains a built-in Apple M3 10-core GPU. It has the unified memory architecture of M3 and has ray tracing and mesh shading support, which boosts the graphical results. The GPU also has a feature of dynamic caching that only utilizes the memory which is required.
Apple has stated that this M3 GPU offers better performance than the M2 10-core GPU. It has ten unified pipelines, and the power consumption is around 15W, so with these powerful specifications, you can expect excellent results.
Keyboard and Trackpad
The M3 MacBook has a responsive and easy-to-use keyboard. You do not require immense force to press keys, and all buttons are placed at equal distances, which makes typing easier for you. The touch ID button is also placed on the keyboard, which helps you quickly turn on the system without any delay.
Since it is a backlit keyboard, you can easily use it at night even when the lights in your room are turned off, which is another positive aspect of this device.
The trackpad also helps you handle different functions easily, and its smooth touch allows you to swiftly move your fingers as it is spacious and has decent dimensions. You can perform different functions easily through the touchpad, like opening new windows, skimming through web pages, and browsing the web.
Other specs
Some of the other specs of the M3 MacBook include Wi-Fi 6E connectivity, USB 4 ports, and two Thunderbolt ports. All these ports offer different connectivity options, which you may consider as per your needs.
The 1080p HD camera also deserves special mention here as it contains a highly functional image signal processor that significantly impacts the camera quality. The long-lasting battery life of around 14 hours is another prominent aspect of the specs that this device has. It is perfect for individuals who are engaged in long working sessions.
Buy Apple MacBook Pro 14 MTL73 in Pakistan
Paklap has always maintained the highest quality standards when it comes to computing systems and gadgets. We deal with top manufacturers in the industry, so nobody can question our credibility.
Brand New Apple MacBook Pro 14 MTL73 M3 Chip 8 Core CPU & 10 Core GPU with 8GB RAM & 512GB SSD Space Gray Color 2023 Model Latest Price in Pakistan is Rs. 619,900. Paklap offers Free Cash on Delivery Services in Lahore, Karachi & Islamabad.