Apple Macbook Pro 14 MRX33 - Apple M3 Pro Chip 11-Core CPU 14-Core GPU 18GB 512GB SSD 14" Liquid Retina XDR Screen Display Backlit Magic KB Touch ID & Force Touch TrackPad (Space Black, 2023)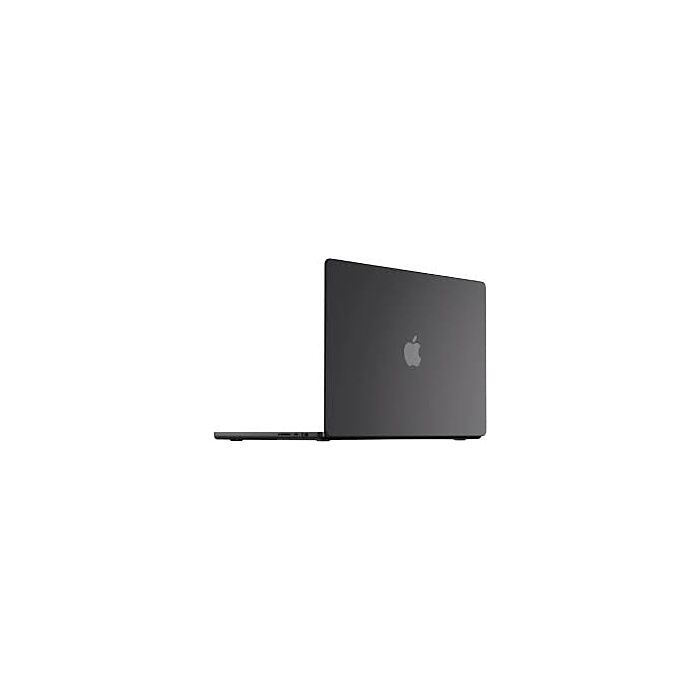 Specifications

| | |
| --- | --- |
| Brand | Apple |
| Processor Type | Apple M3 Pro Chip |
| Processor Speed | 11-core CPU, 14-core GPU & 16-core Neural Engine |
| Installed RAM | 18Gb |
| Type of memory | 18GB Unified Memory |
| Hard drive size | - |
| Hard drive speed | - |
| Optical Drive | - |
| Type of optical drive | - |
| SSD | 512 GB SSD |
| Type of harddrive | 512Gb Solid State Drive |
| Dedicated graphics | Apple M3 Pro Chip |
| Graphics memory | 14-core GPU |
| Type of graphics memory | Apple M3 Pro Chip |
| Switchable graphics | No |
| Graphics processor | Apple M3 Pro Chip |
| Backlight | Yes |
| Screen size | 14.2-inch (diagonal) Liquid Retina XDR display;1 3024-by-1964 native resolution at 254 pixels per inch |
| Screen surface | 14.2-inch (diagonal) Liquid Retina XDR display;1 3024-by-1964 native resolution at 254 pixels per inch |
| Screen resolution | 3024-by-1964 |
| Touchscreen | No |
| Color | Black |
| Weight | 3.5 pounds (1.61 kg)7 |
| Fingerprint Reader | No |
| Numeric keyboard | No |
| Backlit keyboard | Yes |
| Bluetooth | Yes |
| LAN | - |
| Speed | - |
| Wireless/Wifi | Yes |
| Type | Wi-Fi 6E (802.11ax)6 |
| Condition | New |
| USB | Two Thunderbolt / USB 4 ports with support for: |
| HDMI | No |
| Camera | 1080p FaceTime HD camera |
| Operating system (Primary) | MAC OS |
| Manual | https://www.apple.com/macbook-pro/specs/ |
| Product page | https://www.apple.com/macbook-pro/specs/ |
| Warranty | International |
Apple MacBook Pro 14 MRX33 with M3 Pro Chip Space Black in Pakistan
Apple MacBook Pro 14 MRX33 is a powerful laptop that pushes the limits of performance and portability. This model was eagerly awaited, and it represents Apple's dedication to ensuring outstanding quality and user experience, which people expect from the brand. The ground-breaking unified M3 Pro chip, higher RAM size, and enormous storage capacity are some prominent aspects of this device. The captivating display and graphics power also deserve appreciation, which can positively contribute to tech enthusiasts and professionals from different walks of life. Let's explore this in-depth review of this MacBook Pro model to find out more about it.
Design
Apple's MRX33 model is yet another example of their mastery of design. The brand is known for its typical minimalist design, so it is showcased in this device by the sturdy and elegant aluminum chassis. The laptop's lighter weight and thin profile make it more portable, but there is no compromise on durability. The decent weight of 1.6 Kg shows its portability.
With its smaller footprint and flatter edges compared to its predecessors, this model has a sleeker and more contemporary appearance. Furthermore, the aluminum body in space black color gives a premium feel. The Apple logo is embedded in the behind of the screen's lid, which gives a perfect finish to the machine.
M3 Pro Chip
The M3 Pro chip is installed in MacBook MRX33, which showcases Apple's dedication to in-house silicon innovation. This specially designed chip efficiently performs, and the integration of high-performance CPU and GPU cores, along with dedicated neural engine capabilities, boosts the laptop's computational power to the next level. For any kind of workload, the 16-core neural engine and 11-core CPU are perfect.
Users can also enjoy seamless multitasking, faster rendering times, and battery energy efficiency thanks to the M3 Pro chip's advanced architecture. This chip is, therefore, ideal for any resource-intensive task that can aid in faster computing, whether you work as an animation designer, video editor, or on any other high-powered applications.
RAM and Storage
This M3 Pro MacBook has a large amount of RAM and storage installed to meet the varied needs of professionals in the modern world. You can use your internet browser's multiple tabs to work on multiple projects at once, thanks to the 18GB RAM. It makes it easier for you to handle your workload and increases productivity. The SSD storage enhances the laptop's overall responsiveness and has a 512 GB storage capacity. It facilitates faster data access and gives you enough room to manage your data effectively. Because SSDs use less energy, you don't have to be concerned about battery life.
Display
The stunning Liquid Retina XDR display is the major highlight of this MacBook Pro 14 model. This 14.2-inch display, with a resolution of 3024 x 1964 pixels, produces captivating and immersive visuals with vivid colors and outstanding contrast. One of the major benefits of XDR display is that it produces a dynamic range of visuals with higher brightness.
The smoothness of on-screen content is enhanced by ProMotion technology, which has a refresh rate of 120 Hz, so whether you are browsing through documents or watching HD videos, you will get an amazing viewing experience. True-to-life visibility is guaranteed by the support of an outstanding wide-color gamut. Also, you will enjoy photo editing and watching 4K videos with perfect visual clarity.
Graphics
The unified M3 Pro Chip has a 14-core GPU that contains high-end features. This GPU is designed to fulfill the high expectations of users like gamers, graphics designers, and 3D animators who want top-notch graphical quality. The GPU can clock at a decent core speed, which also positively impacts the visual quality and enhances the rendering capabilities as well. It has a unified memory of LPDDR5-6400 and a 256-bit bus, which also elevates the graphical quality further. So, whether you want to view high-definition videos or perform any type of graphics-centric activity, you will certainly get satisfactory results.
Keyboard and Trackpad
Apple's dedication to having user-centric features in their laptops remains the same, which is also evident in this model. With its improved mechanism, the Magic Keyboard offers a responsive and comfortable typing experience that can help you work for hours without any discomfort. The backlit keyboard offers an added advantage, which makes the device more usable and helps you work regardless of how the lighting is in your surroundings.
On the other hand, the Force Touch Trackpad offers decent adaptability. It allows users with different hand sizes and shapes to control the device conveniently and makes navigation easier. The multi-touch gesture support ensures accurate tracking, which helps in the seamless execution of tasks.
Other Specs
It is always handy to have additional features in your laptop that can improve the usability and make the device more valuable for you. This MacBook Pro has a sophisticated thermal architecture that guarantees effective heat dissipation. With its long battery life and quick charging capabilities, this machine can handle your hectic work schedule easily. The presence of Wi-Fi 6E ensures strong connectivity and helps you stay on top of your work. The two Thunderbolt ports, along with USB ports, also add more useful connectivity features. More importantly, the presence of a 1080p HD camera will allow you to make your video meetings more engaging.
Buy Apple MacBook Pro 14 MRXX3 in Pakistan
Paklap is one of the most reliable retailers in Pakistan that offers computing products like laptops and MacBooks at reasonable prices. Customer satisfaction is our biggest priority, so we never compromise on the quality. If you are residing in Karachi, Lahore, and Islamabad, then you can make the most out of our free cash-on-delivery services in these cities. If you want to place an order from another city, then you have to clear your dues in advance. For any queries, contact us at 0304-111-3005. Our customer staff support staff will address all your queries and provide you with personalized suggestions based on your needs. We ensure timely delivery, so you will receive your order without any delay.
Brand New Apple MacBook Pro 14 MRX33 M3 Pro Chip 11 Core CPU & 14 Core GPU with 18GB RAM & 512GB SSD Space Black Color 2023 Model Latest Price in Pakistan is Rs. 729,900. Paklap offers Free Cash on Delivery Services in Lahore, Karachi & Islamabad.