The trend of digital transactions has increased since 2010 and opened a new gate - the Revolution of Traditional Marketing into Digital Marketing. Through digital information technology, all aspects of general living ideas are converted into digital life trends.
Marketing is an art of delivering your ideas to the masses. This era of development has a major impact on young marketers. Many online stores are operating in this digital world of tech. www.paklap.pk is one of the most trending tech stores in Pakistan. On Paklap.pk you can directly search online products, view their specifications and order them in a few minor steps. Paklap.pk ensures your information remains confidential and for transnational purposes only. The steps to place an order in this market are as follows:
1. Open Paklap.pk
The first step is to open Paklap.pk on your web browser. This is a universally friendly website, which can be opened on any device such as a laptop, smartphone or tablet. Once you have opened Paklap.pk, you will view the following screen: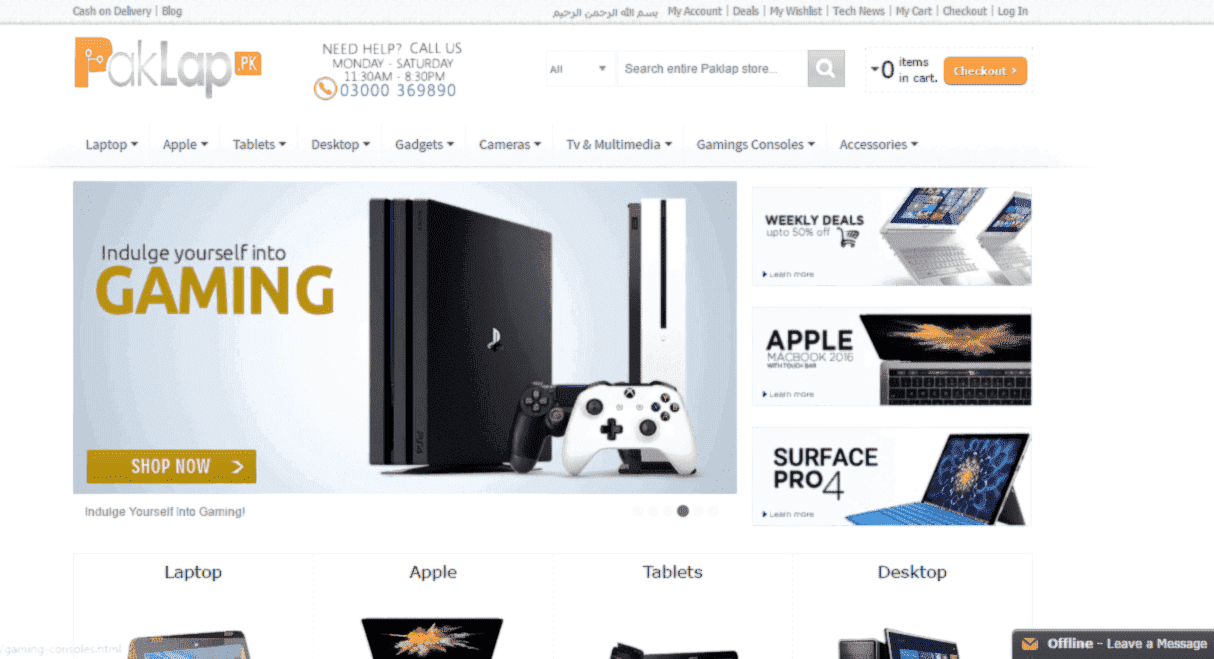 2. Select the Desired Product
In this step, you will search your desired product either through search feature or from categorical view. For searching your desired product tap the search option on the top and then type the product name as shown in figure:
3. Placing an order
After you have reached your desired product, now you can finally place your order.
1. You can either place the order directly (like shown in the picture below).
2. Or else, click on the product, see what it has got and answer the questions like; whether if it is the product you are searching for or not, does it fulfill your requirements, is it feasible for you and your pockets.
3. In this step, you have to tap on the "Buy Now" option to place your order.
A dialogue box will open, via which you can select edit you cart then check the already selected products and edit them. You can also select continue shopping from here and go back to the store to place your order collectively. Once you are content with what you chose and want to place the order, then proceed to "Checkout."
Once you click "Checkout" after clicking "Buy now," your order is processed in our system.
4. Checkout Information
After you select "Check Out," a cart menu will open in which you will have to select checkout method.
You can proceed as a Guest or Register at Paklap. If you click register then the following menu will open:
However, by clicking the option of Continue as a Guest, the following menu will be generated:
A new menu will open in both cases, which you will have to enter your general information including name, address and phone number. All asterisk categories must be filled with proper and accurate information. Once you have entered all the required information, you can proceed to next step option by clicking Continue.
5. Selection of Shipping Method
In this step, you shall select what kind of shipping method you prefer. You can select Online Transaction and get free home delivery, or you can go with Cash on Delivery feature. After checking the dialog boxes, you can proceed to next step.
6. Payment Information Selection
In this step, you will choose the payment options for the delivery. This may be online transaction option or cash on delivery. However, with Cash on Delivery, you will have to pay the delivery charges. Now you can step ahead with order placement review.
7. Order review
Your order is now ready to be placed. In this step, you can review product description, terms, payment aspects and shipping details. The whole transaction environment will be displayed in the description form, where you can review your decided transaction. After reading the terms and condition, check the dialog box and place your order.
Happy Paklapping!