Dell Alienware m15 R7 Ci7 12th 3080ti
Dell Alienware m15 R7 Gaming Laptop - Alder Lake - 12th Gen Core i7 Tetradeca-Core Processor 32GB 01-TB SSD 16-GB NVIDIA GeForce RTX3080Ti GDDR6 Graphics 15.6" Quad HD 240Hz CV+ NVIDIA G-SYNC Display CherryMX Mechanical RGB BKB W11 (Dark Side of the Moon)
Special Price
Rs. 710,000.00
Regular Price
Rs. 775,000.00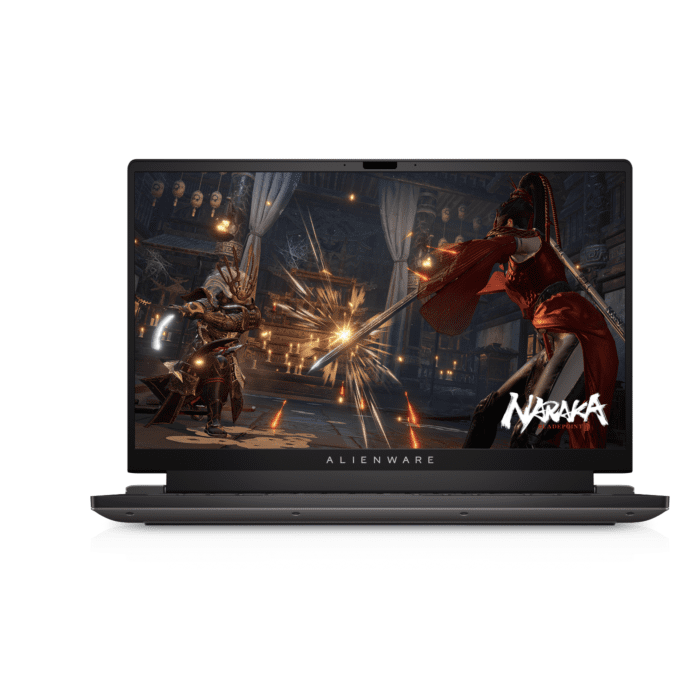 Specifications

| | |
| --- | --- |
| Brand | Dell |
| Generation | 12th Generation |
| Processor Type | 12th Generation Intel Core i7-12700H Tetradeca-Core Alder Lake Processor (24 MB Cache) |
| Processor Speed | 2.3 GHz Turbo Boost up to 4.7 GHz (14 Cores, 20 Threads) |
| Installed RAM | 32 GB |
| Type of memory | 32 GB, 2 x 16 GB, DDR5, 4800 MHz, dual-channel |
| Hard drive size | 1 TB (2 x 512 GB), M.2, PCIe, SSD |
| Hard drive speed | - |
| Optical Drive | No |
| Type of optical drive | - |
| SSD | 1 TB SSD |
| Type of harddrive | 01-TB, M.2 2280, PCIe NVMe, SSD, Class 40 |
| Dedicated graphics | Yes |
| Graphics memory | NVIDIA® GeForce RTX™ 3080 Ti, 16 GB GDDR6 |
| Type of graphics memory | Discrete |
| Switchable graphics | - |
| Graphics processor | Intel |
| Backlight | LED |
| Screen size | 15.6", QHD 2560 x 1440, 240Hz, Non- Touch, 2ms, Advanced Optimus, ComfortView Plus, NVIDIA G-SYNC |
| Screen surface | 15.6", QHD 2560 x 1440, 240Hz, Non- Touch, 2ms, Advanced Optimus, ComfortView Plus, NVIDIA G-SYNC |
| Screen resolution | 2560x1440 |
| Touchscreen | No |
| Color | Black |
| Weight | 5.34 lbs. (2.42 kg) |
| Fingerprint Reader | No |
| Numeric keyboard | No |
| Backlit keyboard | Alienware's CherryMX ultra low-profile mechanical laptop keyboard with per-key AlienFX lighting |
| Bluetooth | Bluetooth 5.2 |
| LAN | Yes |
| Speed | 1 RJ-45 Killer E3100 2.5Gbps Ethernet port |
| Wireless/Wifi | Yes |
| Type | Killer™ Wi-Fi 6 (6E* Pre-certified) AX1675 802.11ax 2x2 Wireless LAN |
| Condition | New |
| USB | 1 USB Type-A 3.2 Gen 1 5Gbps Port 1 USB Type-A 3.2 Gen 1 5Gbps Port with Powershare 1 Type-C port (Includes Thunderbolt™ 4, USB 3.2 Gen 2, Display Port 1.4, and Power Delivery (5V/3A) capabilities) 1 USB Type-A 3.2 Gen 1 |
| HDMI | 1 HDMI 2.1 with HDCP 2.3 support |
| Camera | 720p at 30 fps HD RGB-IR camera |
| Operating system (Primary) | Genuine Windows 11 Home |
| Manual | https://www.dell.com/en-us/shop/dell-laptops/alienware-m15-r7-gaming-laptop/spd/alienware-m15-r7-gaming-laptop/wnr7m15cto10s |
| Product page | https://www.dell.com/en-us/shop/dell-laptops/alienware-m15-r7-gaming-laptop/spd/alienware-m15-r7-gaming-laptop/wnr7m15cto10s |
| Warranty | International |
Dell Alienware m15 R7
Dell is leaving no stone unturned in giving its audience the best of the best. Dell Alienware m15 R7 is a gaming laptop that has considerably levelled up in terms of specs. Now you get a 12th Gen Intel® Core i7 processor, an NVIDIA GeForce RTX 3080 Ti GPU, customisable RAM, and storage, and a 15.6" large Quad HD display. This is not it, the stellar battery life that it has and ComfortView Plus lets you work, create and play for longer hours.
Processor
It has an Intel® 12th Generation Core i7-12700H processor which is Tetradeca-Core. It is built as per "Intel® 7" platform to save space and enable a slimmer chassis, so no more having to play games on big and bulky machines. The 14-core and 20-thread configuration allows it to handle 24 MB Intel® SmartCache quite easily. These fourteen cores are subdivided into 6 performance cores (P-Cores) and 8 efficiency cores (E-Cores). It clocks a frequency of 2.3 GHz in a consistent manner and with Intel® Turbo Boost, this can go up to 4.7 GHz.
The Alder Lake chip also introduces some new and cool technologies into the system, such as DDR5, PCIe 5.0, Wi-Fi 6E (Gig+), and supports multiple Thunderbolt™ 4 ports at the same time.
RAM and Storage
This one comes with 32 GB of DDR5 RAM in the form of two 16 GB DDR5-4800 MHz RAMs. As it is dual-channel supportive, you can also expand it for enhanced speed and performance.
The storage you get with this one is a 1 TB Solid State Drive in the form of two 512 GB M.2 PCIe NVM Express Solid State Drives. The good news is that this is also expandable.
Graphics
16 GB GDDR6 NVIDIA GeForce RTX 3080 Ti dedicated graphics card lets you immerse right into your game with Ray Traced details. Light, rain, fire, and all such effects will now be more realistic than ever, thanks to NVIDIA's 2nd Gen Ampere architecture. This architecture employs Tensor Cores, Ray Tracing Cores, multiprocessors, and state-of-the-art AI.
Display
It has a 15.6" large QHD display that delivers a screen resolution of 2560 x 1440p. The responsiveness of the screen is quite impressive with a refresh rate of 250 Hz and a response time of 2ms. Features like Advanced Optimus and NVIDIA G-Sync ensure tear-free gameplay. Moreover, with ComfortView Plus you can work, create and play for longer hours.
Alienware Cryo-tech™ Cooling
It introduces dual-fan design with each of them having twice as many blades as the previous gen. These blades are 37.5% thinner than before, pulling cool air from the top and bottom and removing it from left, right, and back vents. The RTX 3080 Ti variant also used element 31 gallium-silicone thermal paste that transfers heat at a faster rate, taking it away from the processor.
Build and Design
Premium build in a grey-black colour that Dell likes to call the Dark Side of the Moon is what you get. The top lid has an alien head logo with RGB backlight and a "15" scored on it. As you open the lid, there is an RGB backlit keyboard codeveloped with CherryMX (more on the keyboard can be read below). There is an AlienFX lighting element at the backside of the panel that lights up in synchronization with all the other lights on the machine, including the alien heads.
CherryMX keyboard with AlienFX lighting
Codeveloped with CherryMX, this keyboard has AlienFX per-key RGB backlighting which can be customised to your liking and style. The user gets to enjoy a tactile feedback with 1.8mm key-travel that you can easily adjust to. The keys have stainless-steel switches underneath that enhance the durability in the longer run.
Order with Paklap
We maintain our credibility by delivering the best and 100% authentic products to our customers. When you order with us, rest assured that there are no hidden charges and no delivery charges. The FREE delivery is valid for everyone in Pakistan. Cash on Delivery is valid in Karachi, Lahore and Islamabad only.
Dell Alienware m15 R7 is a gaming laptop designed for high-performance gameplay. It has a 12th Gen Intel Core i7-12700H processor, 16 GB dedicated NVIDIA GeForce RTX 3080 Ti graphics card, customisable storage and RAM, a 15.6-inch large QHD screen, and updated cooling solution.
Our customer services agents are available for you via the LIVE chat feature and at our WhatsApp number - 03041113005. You can also have a look at the other 12th Gen laptops and gaming laptops on our site.