Asus Zephyrus G14 2021 in Pakistan
ASUS Zephyrus G14 GA401QM - AMD Ryzen 9 5900HS 16GB 1-TB SSD 6-GB NVIDIA GeForce RTX3060 GDDR6 14" Full HD 1080p 144Hz Display Backlit Chiclet Keyboard Dolby Atmos Sound W10 VR Ready (MoonLight White)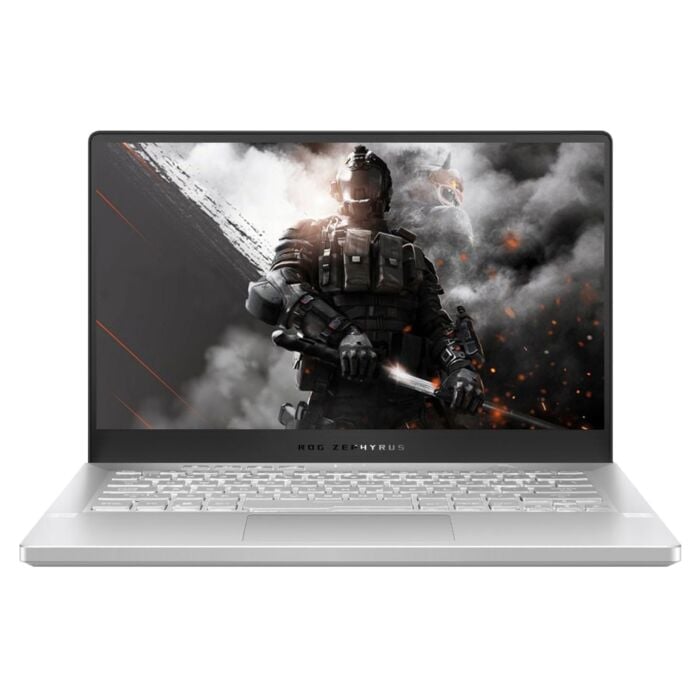 Specifications

| | |
| --- | --- |
| Brand | Asus |
| Generation | AMD |
| Processor Type | AMD Ryzen 9 5900HS Octa-Core Processor |
| Processor Speed | 3.1 GHz (16M Cache, up to 4.5 GHz) (8 Cores - 16 Threads) |
| Installed RAM | 16 GB |
| Type of memory | 16GB DDR4 on board Max Capacity : 32GB |
| Hard drive size | 1TB M.2 NVMe PCIe 3.0 SSD |
| Hard drive speed | - |
| Optical Drive | No |
| Type of optical drive | - |
| SSD | 1 TB SSD |
| Type of harddrive | 1TB M.2 NVMe™ PCIe® 3.0 SSD |
| Dedicated graphics | Yes |
| Graphics memory | NVIDIA® GeForce RTX™ 3060 Laptop GPU With ROG Boost up to 1382MHz at 60W (80W with Dynamic Boost) 6GB GDDR6 |
| Type of graphics memory | Discrete |
| Switchable graphics | No |
| Graphics processor | AMD |
| Backlight | LED |
| Screen size | 14" 144Hz IPS-Level Full HD (1920x1080) 100% sRGB Anti-Glare Display |
| Screen surface | 14" 144Hz IPS-Level Full HD (1920x1080) 100% sRGB Anti-Glare Display |
| Screen resolution | 1920x1080 |
| Touchscreen | No |
| Color | White |
| Weight | 1.60 Kg (3.53 lbs) |
| Fingerprint Reader | No |
| Numeric keyboard | No |
| Backlit keyboard | Backlit Chiclet Keyboard |
| Bluetooth | Bluetooth 5.1 (Dual band) 2*2 |
| LAN | No |
| Speed | - |
| Wireless/Wifi | Yes |
| Type | Wi-Fi 6(802.11ax) |
| Condition | New |
| USB | 1x USB 3.2 Gen 2 Type-C 2x USB 3.2 Gen 1 Type-A 1x USB 3.2 Gen 2 Type-C support DisplayPort / power delivery / G-SYNC |
| HDMI | 1x HDMI 2.0b |
| Camera | No |
| Operating system (Primary) | Genuine Windows 10 Home |
| Manual | https://rog.asus.com/laptops/rog-zephyrus/2021-rog-zephyrus-g14-series/ |
| Product page | https://rog.asus.com/laptops/rog-zephyrus/2021-rog-zephyrus-g14-series/ |
| Warranty | International |
Asus Zephyrus G14 2021 Gaming Laptop in Pakistan
Asus Rog Zephyrus G14 2021 is a gaming notebook that comes with unique, powerful specifications in Pakistan. It's alluring and too distinct from those typical gaming laptops in town. This top-seller gaming laptop in Pakistan has a crushing AMD Ryzen 9 processor, which is super-impressive of its time.
Powered by a Ryzen series processor with an offering of 16 GB of RAM. An incredible 14-inch design that sets up the benchmark of the ultimate programming and productivity machine. The new Zephyrus g14 gaming laptop was released in May of the following year, 2021, which marks the fact that you're not too late for the purchase.
The last version of Asus G14 2020 came with the RTX 2060 Graphics however, the latest version comes with the powerful Nvidia Geforce RTX 3060 Graphics.
Here we dive into the deepest detail of this new beauty in-store at Paklap.
Your Unboxing Experience is Going To Be Just Like This!
Asus Zephyrus G14 Review is incomplete without stating how you'll expect this beast to be in its first look.
It comes with a power cable and a power charger lying in the boy's right and left parts. And, of course, you'll find all your Asus Zephyrus G14 2021 gaming laptop resting in the middle of a rectangular box. Take it out to discover the following characteristics.
Design & Construction
Zephyrus G14 2021 in Pakistan comes with the same design as it launched the previous year, and it's pretty adequate. This is just an iteration of their older design, and definitely, we can't expect such rapid changes all within a few months.
The design is too compatible with the gamers' needs and therefore doesn't need changes. A 14-inch screen that comes with wholesome performance is what the gamers care the most about. However, the 2020 version didn't match perfectly with the pretty high-end needs that luckily catered to in this new version. Its body is made up of magnesium-aluminum alloy that makes it lightweight with honeycomb reinforcements to maximize its strengths, giving it a weight of 3.5+ pounds.
The nice fit and finish give an elegant look.
The keyboard deck has magnetizing power to keep hold of the lid. This quality keeps it off from flipping away during travel. Also, when the lid moves back, it serves as a prop for the keyboard, introducing subtle airflow.
Superior Display Is Notable!
Asus Rog G14 2021 gaming laptop in Pakistan comes with Full High Definition 144HZ Pantone Validated Free-Sync Display offers superior fidelity overall. It is further paired with 97% standard RGB, 75% Adobe RGB at 329 NITS.
Above all, it loads faster; therefore, the manufacturers address the shortcoming of greater response time with the previous model.
There are reasonable size bezels that run around the 14-inch screen, but it's still a nice compact with the bezel type. The screen is a 1080p 144HZ panel providing a crisp display from each angle.
Ryzen 9 Processor with A Lot of Inbuilt Specs
Asus Zephyrus G14 in Pakistan has an AMD Ryzen 9 5900Hz processor type with 16 gigabytes of memory. Also, it has a 1 Terabyte M.2 NVMe™ hard drive type. It has a battery life too similar to the previous model that goes well as a consistent solution for your daily tasks.
So additionally, you'll find speaker grills, a power supply port, HDMI 2 ports, and a headset jack on the very left of the system. While on the right side, you have 2 USB 3 ports, a USB C port, and a Kensington lock slot.
Asus Zephyrus G14 2021 Price in Pakistan
The new Asus Zephyrus G14 2021 in Pakistan promises to be one of the best seller gaming laptops for its size. The estimated price of this rig is about Rs. 294,449, but Paklap offers you this beast at a discounted price throughout Pakistan. Don't forget to have your hands on this one.
Here's why Asus Zephyrus G14 costs beyond 200000?
✅ Gaming Laptop with an exclusive 14-inch screen
✅ Bid farewell to the base model RTX 2060 Graphic card
✅ Powerful AMD Ryzen 9 configuration and NVIDIA graphic cards
✅ 1 TB Solid State Drive that's standard with all models
✅ Backlit Chiclet Keyboard
✅ FHD 1080P 144HZ Display
✅ Backlit Chiclet Keyboard
✅ Weigh (3.53 lbs)
This new gaming family boasts bold innovation, high performance, iconic design, and premium quality. Feature-packed Asus Rog G14 with a sleek design and high refreshing display set is different from a regular stream setup. Do you find the difference between the two models?
Comment below and let us know with your reviews.
Also, if you find a significant difference between the older Asus Zephyrus G14 and the newer one, and if you feel tired of giving your older system several tries, don't forget to head to Paklap's page. We have an incredible collection of laptops that would indeed match your priorities and allow you to have a subtle replacement.
Buy Asus Zephyrus G14 2021 in Pakistan
And if you are interested in getting your hands on the latest Asus Zephyrus G14 AMD Ryzen 9 Gaming Laptop with Nvidia Geforce RTX 3060 Graphics then just click on the Buy Now button and place your order now. You can also call or WhatsApp us at 0304-1113005 to place an order.
'It never costs to give a read to our latest gaming laptop collection onboard.'
Happy Scrolling..