Apple Macbook Air Z160001C2 Customized - Apple M2 Chip 8-Core CPU 8-Core GPU 16GB 256GB SSD 13.6" Liquid Retina IPS Display with True Tone Backlit Magic Keyboard & Touch ID (Midnight, 2022)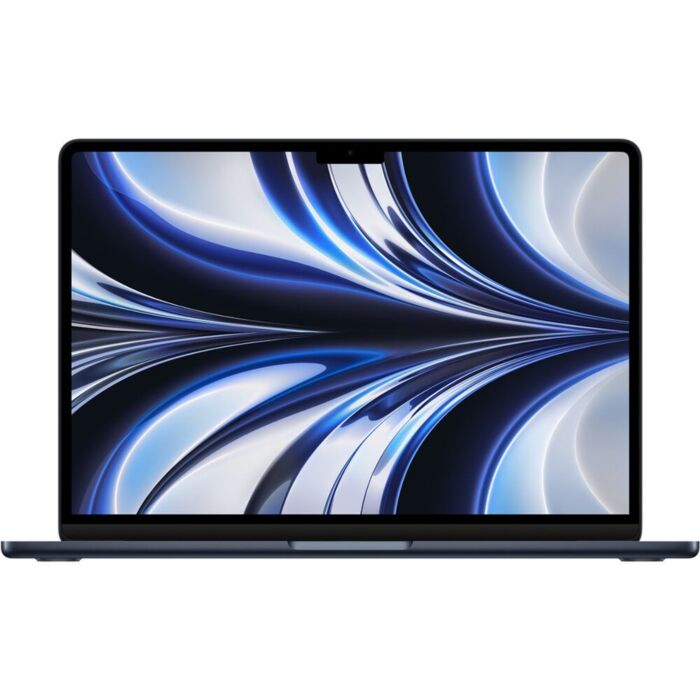 Specifications

| | |
| --- | --- |
| Brand | Apple |
| Generation | No Generation |
| Processor Type | Apple M2 Chip |
| Processor Speed | Apple M2 Chip 8-cores CPU with 4 performance cores and 4 efficiency cores - 8-core GPU 16-core Neural Engine 100GB/s memory bandwidth |
| Installed RAM | 16 GB |
| Type of memory | 16 GB unified memory |
| Hard drive size | 256 GB SSD |
| Hard drive speed | - |
| Optical Drive | No |
| Type of optical drive | - |
| SSD | 256 GB SSD |
| Type of harddrive | Solid State Drive |
| Dedicated graphics | No |
| Graphics memory | Apple M2 8-core Graphics |
| Type of graphics memory | Shared |
| Switchable graphics | No |
| Graphics processor | Integrated |
| Backlight | - |
| Screen size | 13.6" IPS Liquid Retina Display |
| Screen surface | 13.6-inch (diagonal) LED-backlit display with IPS technology; 2560-by-1664 native resolution at 224 pixels per inch with support for 1 billion colors 500 nits brightness Wide color (P3) True Tone technology |
| Screen resolution | 2560-by-1664 native resolution |
| Touchscreen | No |
| Color | - |
| Weight | 2.7 pounds (1.24 kg) |
| Fingerprint Reader | Touch ID |
| Numeric keyboard | No |
| Backlit keyboard | Backlit Magic Keyboard with: 78 (U.S.) or 79 (ISO) keys including 12 full-height function keys and 4 arrow keys in an inverted-T arrangement Touch ID Ambient light sensor Force Touch trackpad |
| Bluetooth | Bluetooth 5.0 wireless technology |
| LAN | No |
| Speed | - |
| Wireless/Wifi | Yes |
| Type | 802.11ax Wi-Fi 6 wireless networking IEEE 802.11a/b/g/n/ac compatible |
| Condition | New |
| USB | Two Thunderbolt / USB 4 ports with support for: Charging DisplayPort Thunderbolt 3 (up to 40Gb/s) USB 4 (up to 40Gb/s) USB 3.1 Gen 2 (up to 10Gb/s) |
| HDMI | No |
| Camera | 1080p FaceTime HD camera |
| Operating system (Primary) | macOS |
| Manual | https://www.apple.com/macbook-air-m2/specs/ |
| Product page | https://www.apple.com/macbook-air-m2/specs/ |
| Warranty | International |
Apple Macbook Air 13 (2022)
If you ever get a chance to talk to a developer or a designer and give them a choice between the latest Windows laptop or the latest Macbook, they will choose the latter. One of the major reasons behind this is that it lets you sync all your Apple devices. The second reason is the exclusivity of Apple apps on their devices. These apps let you create some surefire masterpieces with the least amount of effort involved.
The one under discussion right now is the Apple Macbook Air Z160001C2 which is powered by the M2 processing chip. It is the latest amongst the Apple silicon chips, packing some cutting-edge technologies up its sleeve like ProRes acceleration, support for 4K and 8K video playback, Secure Enclave encryption, and much more. These technologies will take your computing experience up a notch.
Other than that, it also has some really cool features that make the user experience more premium for the Apple users. The Touch ID fingerprint reader lets you access the device smoothly and securely. It also makes shopping with Apple Pay a breeze. Magic Keyboard and Force Trackpad make working and navigating fun for the user. Retina display delivers crisp and vibrant visuals while the True Tone Technology ensures comfortable viewing for long hours.
Processor
Just as we mentioned above, it has the latest Apple M2 chip that runs everything faster and smoother. If we were to compare it in terms of speed and performance, it will outrun its predecessor, the M1 chip. This particular variant of MacBook Air 13 has an M2 chip with 8 CPU cores, 8 GPU cores, and 16 Neural Engine cores.
The CPU cores include performance cores and efficiency cores. Together they provide incredible performance so you can rip through the demanding tasks using much lesser power. The CPU-intensive tasks that were checked with this chip include creating layers of effects or applying multiple complex filters while editing a photo, creating music, or 4K or 8K video playback.
The GPU cores also more efficient than ever. If we were to compare it with integrated graphics, there are noticeable performance gains. The M2 chip GPU cores deliver twice the amount of performance at the same power level. It is so efficient that you can reach peak performance using one-fifth of the power. Thanks to the higher performance per watt from this chip, you get to enjoy longer battery life, and cool and quiet performance even while playing graphic-intensive games.
Coming to the neural engine, processes up to 15.8 trillion operations in one second. The neural engine in M1 chip is also fast but the one in M2 beats it with 40% more speed.
Unified RAM Memory
The Apple MacBook Air 13 (2022) has an impressive 16 GB Unified RAM Memory which gets the job done at a faster speed. It allows for faster booting, loading apps, web browsing, gaming, creating, and watching videos.
Solid State Drive
For storage, it has 256 GB of Solid State Drive which is the fastest storage type. Since it is much faster than a conventional storage option, it ensures super-fast data transfers. It saves all your data in one place so that you can carry it with you, wherever you go.
Mac Operating System
The MacBook Air 13 comes with macOS so you can discover the new and exciting updates by Apple. FaceTime app, Safari web browser and Focus, all are updated by the company often, to keep up with the user demands of today. With macOS, you also get exclusive access to Apple apps and software. The latest variants have MacOS Monterey which will let you work, play and create without any limits.
Advanced Security
Apple silicon and macOS Monterey work together to bring advanced security into your Macbook. Not only does it protect your system from malware and viruses but it also protects the data inside. The company's latest Secure Enclave technology encrypts your data, in order to safeguard it. FileVault goes a step ahead to encrypt the whole of your system. So, there are layers of security that cannot be trespassed.
Liquid Retina Display with True Tone technology
The visuals are truly breathtaking! The 13.6-inches Liquid Retina Display impresses the user with the clearest and brightest it has been. With support for around 1 billion colours, the text is always sharp and images are always vibrant. This is a huge plus for the creators, designers, and engineers as they need more clarity and accuracy in their work. The brightness goes up to 500 nits and with P3 wide colour gamut, you never have to compromise on the screen.
Plus, with True Tone technology, the system automatically controls the sharpness and warmth of the display so that the user can comfortably work, play and create for long hours.
Powerful and Resilient Build
Weighs as light as 2.7 pounds (1.24 kg) so that the user can easily carry it with them. The 2022 variant comes in four stellar finishes. This one boasts a Midnight finish which is a blue-black shade with a subtle shine. As always, Apple has kept the design minimalistic with a logo on the top and a smooth finish all around. Similar to the previous layout, the corners are rounded instead of bluntly cut edges. Upon opening the lid, there is a 13.6-inches screen with slim borders in contrasting black. The key caps are also of a contrasting black colour.
There is a MagSafe 3 charging port, display port, two Thunderbolt ports that support the type USB 4, and USB 3.1 Gen 2. In addition, it can support two 4K external displays, one 5K external display, or one 6K external display.
Battery
Macbook Air 13 2022 will go on for up to 15 to 18 hours with continuous web browsing and Apple TV movie playback. It has a 52.6-watt-hour lithium-polymer battery that comes with a 30 W USB-C Power Adapter.
Mic and Camera
The mic is always ready to hear you up, be it on FaceTime, Google Live, or while being virtually assisted by Siri. For camera, it has a 1080p FaceTime HD camera which ensures ultimate visual clarity and automatically adjusts the light settings to the surrounding.
Connect with your friends and family, carry out a professional meeting or take help from Siri, this mic and camera combo will never let you down.
Magic Keyboard, Touch Login, and Force Touch Trackpad
Magic Keyboard lets you type your emails and documents like a dream. Typing on this one is as smooth as butter. Every key press is registered, regardless of the force applied and it also has some really cool shortcuts. The keyboard is backlit so you can continue with your work even in dim lights.
Touch ID lets you login in a glimpse while ensuring your safety. You have the option to enable Apple pay and make your online shopping experience smoother than ever. Furthermore, the Force Touch Trackpad has pressure-sensing abilities. This is particularly helpful for the creators and designers, as they'd get a different result depending on the pressure applied – great for pressure-sensitive drawings.
Buy with Paklap
Rest assured that at Paklap you will only find original and authentic Apple products. There are Apple MacBooks, Mac Minis, iPads, Apple Watch and so much more.
Add to cart and confirm your order of Apple Macbook Air 13 (2022) with Paklap to get FREE delivery. FREE delivery is valid throughout Pakistan, however, cash on delivery is only for Karachi, Islamabad, and Lahore. If you reside in Karachi, Islamabad, or Lahore, you can also visit our store. For any other questions, you can call us on our WhatsApp number at 0304-1113005.