Apple Macbook Air 13" - MLY13 - Apple M2 Chip 8-Core CPU 8-Core GPU 08GB 256GB SSD 13.6" IPS Retina Display with True Tone Backlit Magic Keyboard Touch ID & Force Touch TrackPad (Starlight, 2022)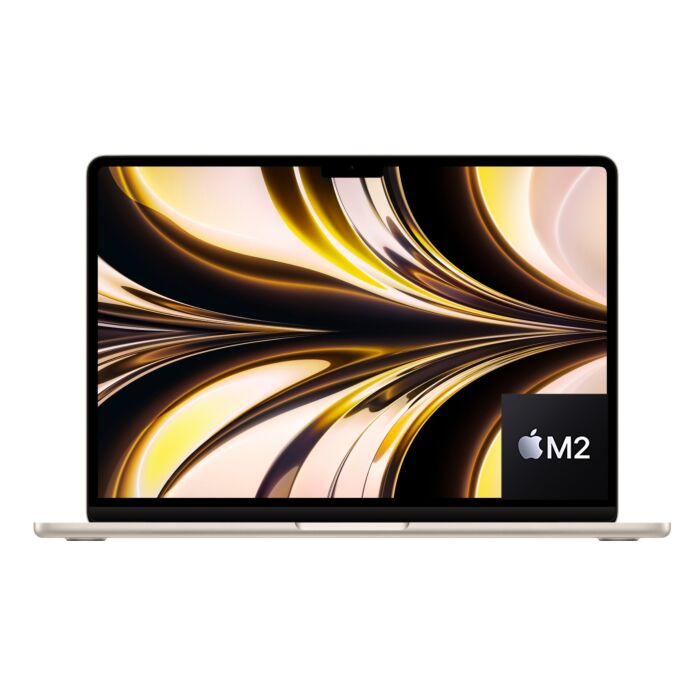 Specifications

| | |
| --- | --- |
| Brand | Apple |
| Generation | No Generation |
| Processor Type | Apple M2 Chip |
| Processor Speed | Apple M2 Chip 8-Core CPU, 8-Core GPU 16-core Neural Engine |
| Installed RAM | 08GB |
| Type of memory | 08GB Unified Memory |
| Hard drive size | - |
| Hard drive speed | - |
| Optical Drive | N/A |
| Type of optical drive | N/A |
| SSD | 256 GB SSD |
| Type of harddrive | Solid State Drive |
| Dedicated graphics | Apple M2 Chip |
| Graphics memory | M2 with 8-core CPU |
| Type of graphics memory | Apple M2 Chip |
| Switchable graphics | No |
| Graphics processor | Apple M2 Chip |
| Backlight | No |
| Screen size | 13.6-inch (diagonal) LED-backlit display with IPS technology;1 2560-by-1664 native resolution at 224 pixels per inch with support for 1 billion colors 500 nits brightness Wide color (P3) True Tone technology |
| Screen surface | 13.6-inch (diagonal) LED-backlit display with IPS technology;1 2560-by-1664 native resolution at 224 pixels per inch with support for 1 billion colors 500 nits brightness Wide color (P3) True Tone technology |
| Screen resolution | 2560x1664 Native resolution |
| Touchscreen | No |
| Color | Black |
| Weight | 2.7 pounds (1.24 kg) |
| Fingerprint Reader | Yes |
| Numeric keyboard | No |
| Backlit keyboard | Yes |
| Bluetooth | Yes |
| LAN | No |
| Speed | - |
| Wireless/Wifi | Yes |
| Type | - |
| Condition | New |
| USB | Two Thunderbolt / USB 4 ports with support for: Charging DisplayPort Thunderbolt 3 (up to 40Gb/s) USB 4 (up to 40Gb/s) USB 3.1 Gen 2 (up to 10Gb/s) |
| HDMI | Yes |
| Camera | Yes |
| Operating system (Primary) | 1080p FaceTime HD camera |
| Manual | https://www.apple.com/macbook-pro/specs-retina/ |
| Product page | https://www.apple.com/macbook-pro/specs-retina/ |
| Warranty | International |
Apple MacBook Air 13 MLY13 with M2 Chip Starlight in Pakistan
The Apple MacBook Air 13 MLY13 is still regarded as the industry's top laptop. With its stylish appearance, potent M3 Pro chip, generous display, SSD, and improved graphics capabilities, this model has cemented its status as a favored device for both business and personal use.
Design
Elegance and Apple MLY13 go hand in hand. Its metal body design shows the high-quality manufacturing of the brand. With a weight of 1.2 kg, it has a thin profile and can be a handy travel companion. A subtle glow highlights the classic Apple logo on the back of the lid, giving it an air of refinement. The starlight design also increases the visual appeal of the device and makes it look more attractive.
M2 Chip
The M2 chip is a powerhouse that is installed in MacBook MLY13. It guarantees smooth performance across a variety of applications. You can enjoy multitasking thanks to its eight-core CPU, which offers amazing computing capability. The M2 microprocessor makes sure that you can do online browsing, work on resource-intensive programs, and perform all tasks responsively.
The M2 chip also reduces heat generation, which improves the device's energy efficiency. It ensures a quieter and cooler operation. The MLY13 is now firmly established as a high-performance laptop thanks to the M2 chip.
RAM and Storage
The MacBook Air MLY13 has a 256GB SSD and 8GB of RAM. Even though some users might want greater storage, the benefit of having an SSD is that it works well with RAM to ensure quick loading times and data access. Even more complex apps run smoothly on the 8GB of RAM, which is more than enough for most daily chores.
A flawless user experience is ensured by Apple's hardware and software optimization, which is especially noticeable in the MLY13. The MacBook Air demonstrates that powerful processing power doesn't always require a higher RAM size.
Display
The model has a 13.6-inch Retina display that is simply amazing. Vibrant colors and sharp writing are presented in a 2560 x 1600 pixel resolution, providing an immersive visual experience. During prolonged usage, the True Tone technology reduces eye strain and improves overall comfort. The display is surrounded by thin bezels, giving it a sleek, contemporary appearance. The higher nits ensure that the display guarantees accurate brightness and clarity.
Graphics
The addition of an 8-core GPU to the MLY13 greatly improves its graphics performance. Impressive visual performance is what the MacBook Air delivers, whether you're a creative professional working with graphic design or a casual gamer enjoying some downtime. Tasks requiring a lot of graphics are easily handled by the GPU, which improves user experience overall.
Keyboard and Trackpad
Apple users will still be able to enjoy the sophisticated keyboard and trackpad combo in this model. Typing is enjoyable thanks to the keyboard's butterfly mechanism, which offers a pleasant tactile reaction. Even in low light, typing will be comfortable and productive thanks to the backlit keyboard and well-spaced keys.
Because of its huge surface area and support for a wide range of motions, the trackpad enables accurate control and easy navigation. It would be right to say that keyboard and trackpad play a key role in enhancing the overall user experience for users.
Other Specs
Apart from the features that are mentioned above, there are other specifications that also increase the worth of this model. A variety of connection options, such as Thunderbolt and USB 4 ports, are included with the device, providing flexible connectivity choices. The three-microphone array records clear audio during virtual meetings, and the 1080p HD camera guarantees clear video conversations.
The most recent macOS updates also benefit the performance of the device, giving customers access to new features, increased security, and improved performance over time. One of the best things about the Apple ecosystem is how well hardware and software work together, and the MLY13 is a prime example of this.
Buy Apple MacBook Air 13 MLY13 in Pakistan
Shopping from Paklap guarantees a dependable and genuine experience for anybody thinking about it. Paklap is a reliable source for tech products like laptops and MacBooks because of its dedication to ensuring customer satisfaction and product authenticity. We provide a streamlined purchasing experience with competitive pricing and exceptional customer support. For more details, contact us at 0304-111-3005.
Brand New Apple MacBook Air 13 MLY13 - Apple M2 Chip 8 Core CPU & 8 Core GPU with 8GB RAM & 256GB SSD Starlight Color 2022 Model Latest Price in Pakistan is Rs. 339,900. Paklap offers Free Cash on Delivery Services in Lahore, Karachi & Islamabad.