Apple Imac MXWT2 - 10th Gen Core i5 3.1Ghz processor 08GB 256GB SSD 27" 5K Retina Display 4GB AMD Radeon Pro 5300 GDDR6 Magic Mouse 2 & Magic Keyboard Included (Silver 2020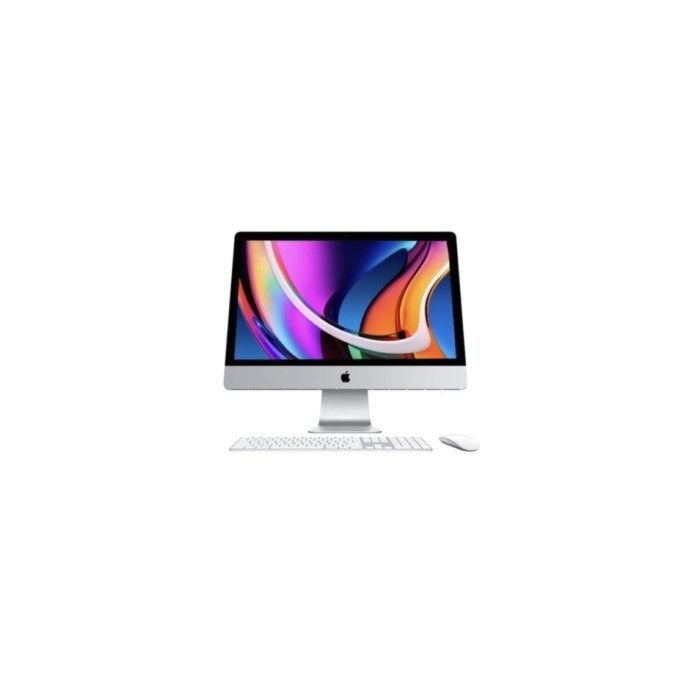 Specifications

| | |
| --- | --- |
| Processor Type | 3.1GHz quad-core Intel Core i5 (Turbo Boost up to 3.6GHz) |
| Processor Speed | 3.0 GHz |
| Ram Size | 8GB |
| HDD RPM | - |
| Screen Size | 27" Retina 5K display 27-inch (diagonal) Retina 5K display 5120‑by‑2880 resolution with support for one billion colors 500 nits brightness Wide color (P3) |
| Graphic | Intel HD Graphics 5000 |
| Operating system | Mac OS X |
| Wireless | Bluetooth,Wi-Fi |
| Optical Drive | - |
| Audio | 3.5 mm headphone jack with headset support, Built-in speaker |
| Brand | Apple |
| Color | Silver |
| Warranty | 01 Year Apple International Warranty |
Apple iMac MXWT2
Apple iMac MXWT2 is an intelligent desktop with one goal in life. DELIVERING SMOOTH VISUALS! And, must we tell you, it does that terrifically well.
Smooth Processing
Get a speed of up to 3.1 GHz and Turbo Boost of up to 3.6 GHz with 10th Gen Core i5 QuadCore Processor. Provides the desktop with sufficient power to carry out all the processes ever so smoothly.
The Mac OS X helps everything run in a streamlined manner and smartly controls it.
Smooth Memory and Storage
With 256 GB Solid State Drive, store all the data and media files smoothly. The 8 GB unified RAM gives you instant access to the stored data and helps everything run smoothly.
Smooth Visuals with 5K Retina Display
Enjoy smooth visuals on this 27-inch, diagonal 5K Retina display that gives a resolution of 5120‑by‑2880. It has support for one billion colours, as per wide colour (P3). The brightness of up to 500 nits, lets you see everything bright and clear. No more having to miss out on the important details!
Smooth Graphics with AMD Radeon Pro 5000 series
The graphics of this desktop are powered by a 4 GB AMD Radeon Pro 5300 GDDR6 graphics card. It works to render graphics that are smooth as ever.
More about it
This silver desktop comes with a Magic Mouse 2 and Magic Keyboard. Together these make it a full-on desktop PC that you can work, create and edit on.
Buy Now
Paklap brings to you Apple products at the lowest prices online in Pakistan. Buy Apple iMac MXWT2 10th Gen Core i5 QuadCore processor, 27-inch 5K Retina Display from Paklap. We deliver it to your doorstep with free cash on delivery, everywhere in Pakistan.
Click on the Add to Cart button to buy now. If you have any queries ask them away by calling at 0304-1113005, or use our Live Chat service. Paklap has the lowest Apple iMac MXWT2 5K Retina display desktop price in Pakistan.