Acer Predator HELIOS 300 - 8th Gen
Acer Predator HELIOS 300 - 8th Gen Ci7 HexaCore (9-MB Cache) 16GB 1TB HDD + 512GB SSD 17.3" Full HD 1080p IPS LED 144Hz 6-GB Nvidia GeForce GTX1060 W10 Backlit KB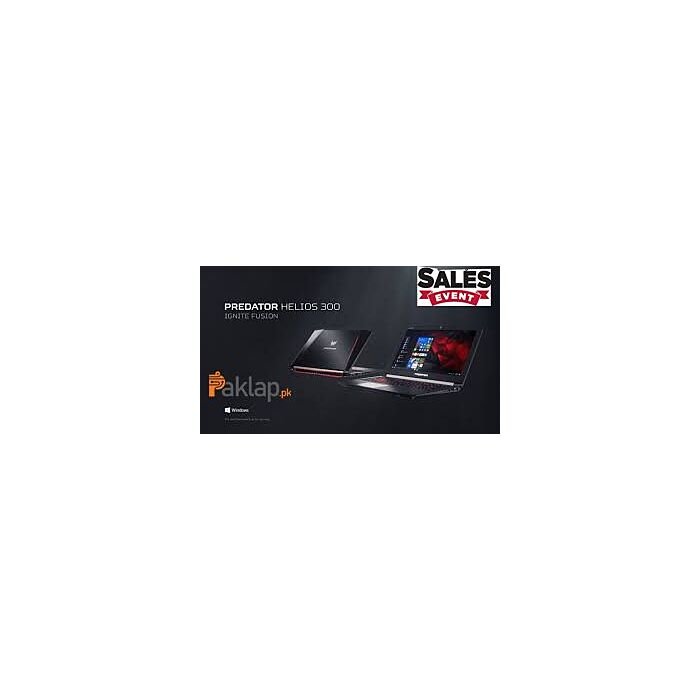 Specifications

| | |
| --- | --- |
| Brand | Acer |
| Generation | 08th Generation |
| Processor Type | 8th Generation Core i7-8750H HexaCore Processor (6 Cores - 12 Threads) |
| Processor Speed | 2.2 GHz Turbo Boost 4.1 (9 MB Cache) |
| Installed RAM | 16 GB |
| Type of memory | 2 Slots -DDR4 (up to 32GB) |
| Hard drive size | 1 TeraByte HDD + 512 GB SSD |
| Hard drive speed | 7200 RPM |
| Optical Drive | No |
| Type of optical drive | - |
| SSD | 512 GB SSD |
| Type of harddrive | SATA + Solid State Drive |
| Dedicated graphics | Yes |
| Graphics memory | 6-GB Nvidia GeForce GTX1060 GDDR5 |
| Type of graphics memory | Dedicated |
| Switchable graphics | Yes |
| Graphics processor | Intel |
| Backlight | LED |
| Screen size | 17.3" Full HD 1080p IPS 144Hz LED |
| Screen surface | 17.3" Full HD 1080p IPS 144Hz LED |
| Screen resolution | 1920x1080 |
| Touchscreen | No |
| Color | Black |
| Weight | 6.61 LB |
| Fingerprint Reader | No |
| Numeric keyboard | Yes |
| Backlit keyboard | Yes |
| Bluetooth | Bluetooth 5.0 |
| LAN | Yes |
| Speed | Gigabit Ethernet |
| Wireless/Wifi | Yes |
| Type | IEEE 802.11a/b/g/n/ac |
| Condition | New |
| USB | Yes |
| HDMI | Yes |
| Camera | Yes |
| Operating system (Primary) | Genuine Windows 10 Home |
| Manual | https://www.acer.com/ac/en/US/content/predator-model/NH.Q3DAA.005 |
| Product page | https://www.acer.com/ac/en/US/content/predator-model/NH.Q3DAA.005 |
| Warranty | International |
Acer Predator Helios 300 (2018) 8th Generation with Nvidia Geforce GTX 1060 Graphics Gaming Laptop in Pakistan
Acer Inc. is a multinational electronics and hardware organization based in Taiwan, maintaining specialization in cutting-edge electronics technology. Acer's products variety takes in desktop PCs, laptop, tablets, monitors, projectors, smartphones, and cloud solutions for government, domestic users, professionals, and business. Predator Helios 300 (2018) is the most brilliant product of Acer, popularly known as a budget gaming laptop.
Exploring the recognized potential of this amazing model, it triumphs over the competition with the 8th Generation Core i7-8750H HexaCore Processor (6 Cores - 12 Threads) having a surprising 2.2 GHz Turbo Boost 4.1 (9 MB Cache) speed. The Intel Core i7 chip is the latest available with Intel brand. The Predator Helios 300 8th Gen is a true time gaming laptop with Nvidia Geforce GTX 1060 graphics retaining a 17.3-inch 144Hz screen. With these intelligent specs, the machine is being sold at the $2,000 - $ 2300 range - an extremely low price never offered before for gaming laptops.
Paklap pleasantly offers the best performing Acer Predator HELIOS 300 (2018) 8th generation gaming laptop on its e-commerce website with 11 months International warranty. Provided with dedicated graphics through 6-GB Nvidia GeForce GTX1060 GDDR5 graphics memory, the model is offered with switchable Intel graphics processor. The graphics supremacy of the budget gaming laptop handles the most challenging games at both medium and high settings with no exertion.
The Predator Helios 300 8th Gen (2018) is equipped with a larger screen size 17.3-inch Full HD 1080p IPS 144Hz LED. The user never feels overstressed even after spending long gaming hours due to 1920x1080 screen resolution, and 16:9 aspect ratio, and LED backlight. However, the touchscreen feature is missing in this combination. The 144Hz refresh rate is remarkably suitable for users looking for top-rated gaming laptops in this category. Another crunch in this series is the utility of true-to-life color palette that walks through the users a high-pitched 1080p display. The model provides unpredictable fantastic full HD display unique of its kind for a gaming laptop. The pretty 1080p display, true-to-life color reproduction, magenta shades, robust blue, radiating tones delights the gamers while watching movies and gaming sessions. Acer has made huge efforts to bring the 2018 8th generation model to minimize the dropped framing and blurs that proves Acer Predator HELIOS 300 an upgraded techno-gaming-machine.
Very shrewdly, Acer has constructed this model with 16 GB installed RAM with 2 Slots -DDR4 (up to 32GB) memory type. The users can acquire the premier speed and enormous storage capacity 512 GB SSD through Solid State Drive hard drive yet the laptop possesses no optical drive. The gamers are facilitated through 4 value-added USB ports availability - enough digit. Provided with combo microphone input and headphone output, the laptop has 2 x USB 2.0 (Type-A), HDMI port, and 1 x USB 3.1 (Gen 1 Type-A) 1 x USB 3.1 (Gen 1 Type-C) on USB 3.0. The SD card reader and the Ethernet have additionally added features of the model for photography tasks.
The Predator Helios 300 8th generation (2018) Gaming Machine shoulders a mind-blowing design as Acer has made a prolific struggle to satisfy the artistic sense of gamers through metal chassis, splashing finish and black surface color with red accents. The conical edges, silver logo, and linear cuts add more to the beauty. The black color Helios 300 (8th Gen) is light-weight imports merely 6.61 LB with glossy mid-sized dimensions 17.02" width, 11.41" depth, and 1.14" height, neither very colossal nor too large. Users like this easy-to-carry gaming laptop's touchpad and a backlit keyboard featuring numeric keyboard; though there is no fingerprint reader. The easing keyboard is designed in such a systematic way that its matte exterior does not allow figure slipping during work or gaming hours. The user can easily cart the laptop for traveling to enjoy a gaming trip.
The Predator Helios 17 (2018) offers unforeseen power bundle at an affordable price with up to 6 hours decent battery life as it is fixed with 3320 mAh - Lithium ioN - 4 cells battery. The Helios 300 is architecturally constructed by soldering exhaust outlets to eject heat to maintain cooling management system. The system also clutches Bluetooth 5.0, LAN speeds gigabit Ethernet, brand new IEEE 802.11a/b/g/n/ac WIRELESS/WIFI, and 720p effective pixels camera excellent for managing video calls and business conferences.
The user needs to use headphones in normal working; however, during listening to music and watching movies, the audio feature provides equalizer adjustments through compatible software. The 64-bit structured economical laptop, on Paklap.pk website, is shipped with genuine Windows 10 Home as a primary operating system. Its operating manual can be accessed from https://www.acer.com/ac/en/US/content/predator-model/NH.Q3DAA.005. We have provided complete features' range along with all pros and cons; still, any information can be verified through product page of Acer's website link https://www.acer.com/ac/en/US/content/predator-model/NH.Q3DAA.005. Never miss this rare chance, Order now on Paklap.pk to enjoy this bundle offer.
If you're interested in purchasing this most wanted gaming laptop 2018 then just click on the Buy Now button and place your order now. Paklap offers the lowest price of Acer Predator Helios 300 (2018) 8th Generation with Nvidia Geforce GTX 1060 Graphics in Pakistan with 11 months of international manufacturers warranty.