Acer Nitro 5 R7 5800H RTX3070
Acer Nitro 5 - AMD Ryzen 7 5800H OctaCore Processor 08GB to 32GB 01-TB to 02-TB SSD + Optional HDD 08-GB NVIDIA GeForce RTX3070 GDDR6 Graphics 15.6" Full HD IPS 144Hz Display RGB Backlit KB W11 (Shale Black, Acer Direct Local Warranty)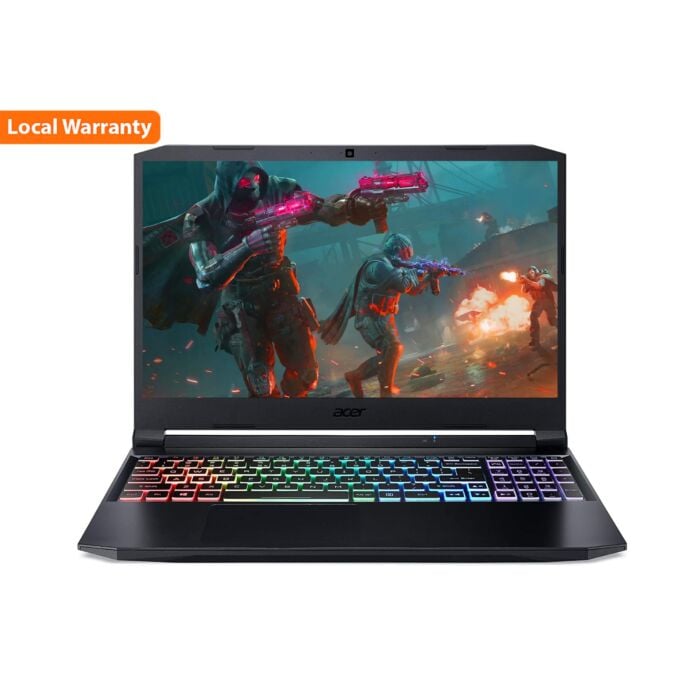 Specifications

| | |
| --- | --- |
| Brand | Acer |
| Generation | AMD |
| Processor Type | AMD Ryzen 7 5800H (# of CPU Cores 8 # of Threads 16 # of GPU Cores 8) |
| Processor Speed | 3.2 GHz Turbo Boost up to 4.4 GHz |
| Installed RAM | 08 GB |
| Type of memory | DDR4 3200 (Upto 32GB) |
| Hard drive size | 01 TeraByte PCIe NVMe M.2 SSD |
| Hard drive speed | - |
| Optical Drive | No |
| Type of optical drive | - |
| SSD | 1 TB SSD |
| Type of harddrive | 01 TeraByte PCIe NVMe M.2 SSD |
| Dedicated graphics | Yes |
| Graphics memory | 08-GB NVIDIA GeForce RTX3070 GDDR6 Graphic Card |
| Type of graphics memory | Discrete |
| Switchable graphics | - |
| Graphics processor | AMD |
| Backlight | LED |
| Screen size | 15.6" Full HD IPS Acer ComfyView (Matte) 144Hz LED Display |
| Screen surface | 15.6" IPS FHD 1920x1080 resolution 144Hz 3ms* 72% NTSC IPS 300 nits |
| Screen resolution | 1920x1080 |
| Touchscreen | No |
| Color | Black |
| Weight | 2.3 KG |
| Fingerprint Reader | No |
| Numeric keyboard | Yes |
| Backlit keyboard | RGB Backlit KB |
| Bluetooth | Bluetooth 5.1 |
| LAN | Yes |
| Speed | Killer E2600 Gigabit Ethernet |
| Wireless/Wifi | Yes |
| Type | Killer Wi-Fi 6 AX 1650i IEEE 802.11a/b/g/n/acR2+ax |
| Condition | New |
| USB | Number of USB 3.2 Gen 1 Port 2 Number of USB 3.2 Gen 2 Port 1 Number of USB 3.2(Type-C) Ports 1 |
| HDMI | Yes |
| Camera | 1280 x 720 resolution with HD audio/video recording |
| Operating system (Primary) | Genuine Windows 11 Home |
| Manual | https://www.acer.com/sg-en/support?search=NH.QBRSG.00A;NH.QBRSG.00A;AN515-45&filter=productdetails |
| Product page | https://www.acer.com/sg-en/support?search=NH.QBRSG.00A;NH.QBRSG.00A;AN515-45&filter=productdetails |
| Warranty | 01 Year Local |
Acer Nitro 5
Looking for something powerful and long lasting, why not go for the ever so powerful Acer Nitro 5. It is the newest entry in the competitive mid-range gaming laptop market, and Acer is always a competitor—the company consistently produces great, functional devices at surprisingly cheap prices. On paper, the newest Nitro is no different. It combines graphics from NVIDIA with an AMD Ryzen 7 5800H CPU, giving you power for days.
Processor
Coming along with the Acer Nitro 5 is a powerful octa-core processor from the Cezanne product family, the AMD Ryzen 7 5800H. It is intended for use in bigger laptops, especially gaming laptops and DTRs, and it was introduced in Q1 2021. Along with the Vega 8 iGPU, the Ryzen has eight SMT-enabled Zen 3 cores that operate at base clock speeds ranging from 3.2 GHz to 4.4 GHz. The L3 cache on the chip is 16 MB.
Graphics
The fastest graphics card for laptops in early 2021 is the NVIDIA GeForce RTX 3080 GPU. With a 256-bit memory bus and an 8 GB GDDR6 graphics memory, it is built on the GA104-775-A1 Ampere architecture. It works with PCIe 4. With high frame rates, 4K or QHD gaming is suitable for this GPU. The pinnacle of graphics is ray tracing. To create the most lifelike and engaging images, it models how light works in the actual world. In order to offer tiny, high-performance laptops that are quicker and better than before, new Max-Q technologies also make use of AI. According to the benchmark, it gives you the following fps on some high-end games; 120+ fps for CS:GO on the highest setting, 97fps for Halo Infinite on ultra, 67fps for God of War on ultra etc.
Storage and Memory
You get a huge 16 GB of DDR4 RAM on board, which can be expanded to 32 GB and runs at a 3200 MHz clock speed. You don't experience any slowness when accessing files or using programmes. The device has a 1TB PCIe® NVMeTM M.2 Solid State Drive to store all of your data, and you also have the option to extend storage by adding an HDD drive.
Cooling
The dual-fan ventilation and cooling system of the Acer Nitro 5 is undoubtedly one of its nicest features. The vents are situated in the back of the laptop. Although it is noisy, it is not as loud as a lot of gaming laptops. Even better, you can modify the CPU and GPU fan speeds using Acer's NitroSense software, which makes it somewhat configurable. Additionally, you may utilize it to turn on CoolBoost, which raises the fans' maximum speeds during prolonged use.
Body and Design
You won't be surprised by Nitro's design if you are familiar with Acer's laptops. The Shale Black chassis stands out thanks to the distinct lines on the lid, angled base, and air vents in a contrasting red color, but it also appears a touch archaic in comparison to many of its contemporary counterparts.
Plastic was used to make the machine, which is logical considering the cost. There is movement in the screen, and the base can flex, which is another area where the build quality might be better. It's not completely destroyed, and the Nitro is still powerful enough to throw inside a bag.
With the 4-zone1 RGB keyboard, add some color to the proceedings, and use the special NitroSense Key to control the laptop's internals. Additionally marked for easy sight in crucial situations are the WASD and arrow keys.
Buy Now
Grab the Acer Nitro 5 straight away from Paklap. The AMD Ryzen 7 5800H OctaCore Processor, 16 GB of RAM, which is expandable to 32 GB, a 1TB NVMe SSD, and, of course, the 8 GB of NVIDIA GeForce RTX3080 GDDR6 Graphics on a 15.6" Full HD IPS 144Hz Display are all included in this gaming laptop.
Our products are 100% genuine and we deliver them to your door so you can save time without having to worry about product originality. Cash on Delivery is offered in Lahore, Islamabad, and Karachi only. FREE delivery is valid all over Pakistan. Phone us at 0304-1113005 on our WhatsApp number and ask all your queries.