Apple Macbook Pro 13" - Z16S000P3 Apple M2 Chip 16GB 2-TB SSD 13.3" Retina IPS LED Display With True Tone Backlit Magic Keyboard & Touch ID & Force Touch TrackPad (Space Gray, 2022)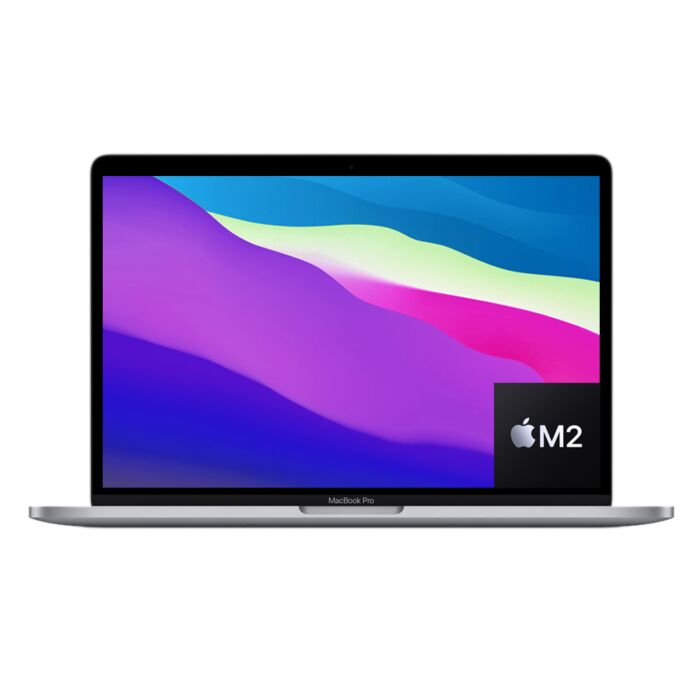 Specifications

| | |
| --- | --- |
| Brand | Apple |
| Generation | No Generation |
| Processor Type | Apple M2 Chip |
| Processor Speed | Apple M2 chip with 8‑core CPU, 10‑core GPU, 16‑core Neural Engine |
| Installed RAM | 16GB |
| Type of memory | 16GB Unified Memory |
| Hard drive size | - |
| Hard drive speed | - |
| Optical Drive | N/A |
| Type of optical drive | N/A |
| SSD | 2 TB SSD |
| Type of harddrive | Solid State Drive |
| Dedicated graphics | Apple M2 Chip With 10-Cores GPU |
| Graphics memory | Apple M2 Chip |
| Type of graphics memory | - |
| Switchable graphics | No |
| Graphics processor | Apple M2 Chip |
| Backlight | Yes |
| Screen size | Retina Display 13.3-inch (diagonal) LED-backlit display with IPS technology; 2560-by-1600 native resolution at 227 pixels per inch with support for millions of colors 500 nits' brightness |
| Screen surface | Retina Display 13.3-inch (diagonal) LED-backlit display with IPS technology; 2560-by-1600 native resolution at 227 pixels per inch with support for millions of colors 500 nits' brightness |
| Screen resolution | 2560-by-1600 |
| Touchscreen | No |
| Color | Space Gray |
| Weight | 5.5 KG |
| Fingerprint Reader | Yes |
| Numeric keyboard | No |
| Backlit keyboard | Yes |
| Bluetooth | Yes |
| LAN | No |
| Speed | - |
| Wireless/Wifi | Yes |
| Type | - |
| Condition | New |
| USB | Two Thunderbolt / USB 4 ports |
| HDMI | Yes |
| Camera | No |
| Operating system (Primary) | Mac OS |
| Warranty | International |
Apple Macbook Pro 13" - Z16S000P3
Each year, Apple launches new models of its classic products such as the iPhone and MacBooks. This year, Apple surprised the audience with the launch of the Apple MacBook Pro 13" with its latest M2 chip processor. Meaning you get the same amazing battery life, high-security features, and strong and effective active cooling system with the powerful performance of the M2 chip.
Apple M2 Silicon Chip and 10-core GPU
The only thing that changed in Apple MacBook Pro 13 is its processor. Users were pretty satisfied with the power of the M1 chip, but Apple made a few advancements and create a much more powerful chip. It uses the same custom Arm silicon but has more transistors in comparison to M1. Also, there is more memory bandwidth as well. There is also an upgrade in the GPU cores. The new M2 chip has a 10-core GPU. This means you do not need a separate graphics card in this machine.
As for the CPU, there is an 8-core CPU and 16-core Neural Engine. The Neural Engine is responsible for AI-related tasks such as facial ID login and voice recognition. You should also know here, that the M1 MacBook Pro was clocked at 3.2 GHz, however, the M2 chip is clocked at a higher speed of 3.49 GHz.
16 GB of Unified Memory and 2 TB of Storage
The key feature of this machine is its unified memory. This particular variant, Z16S000P3, has a 16 GB unified memory. It increases your performance by letting you access files quickly. Moreover, this model is packed with 2 TB of Solid State Drive, meaning you get a speedy storage device.
Retina Display
In terms of display, MacBook Pro rocks a 13.3-inch screen. In comparison to the IPS display, the Retina display is much more pixelated. In simpler words, a Retina display offers higher pixel density, hence the clarity of images is greater. This high clarity is backed by True Tone as well. The True Tone technology ensures the colour display on the screen is close to what you see in reality. That said, the screen resolution of this machine is 2560 x 1600. The display can get as bright as 500 nits. And lastly, you get 25 % more colour space, thanks to Wide Colour P3, in comparison to sRGB.
Build and Design
Another thing that stayed constant in the new Z16S000P3 MacBook Pro 13" is the classic chassis. It dates back to 2016 and still is the best-looking body on the market. That said, this variant is available in Space Gray colour. It has swooped rounded edges with a smooth clean design. Moreover, you get the same Backlit Magic Keyboard and the Force Touch trackpad. With the Magic keyboard, you get a comfortable typing experience, as well as the backlight feature which lets you easily type even in the dark. The force touchpad also works smooth like butter yet offers precision cursor controls and supports multi-touch gestures. If you are a creative person, you can use the pressure-sensitive touchpad to create drawings as well.
Now many users enjoy the Touch Bar feature to quickly access functions in frequently used applications. This is why Apple has included it in its 2022 latest model as well. In terms of weight, MacBook Pro has a reputation for being lightweight and portable. With a mere weight of 1.4 kg, you can easily carry it around with one hand.
720p Camera
If you enjoy using FaceTime for video calling or urgent meetings, then the 720p HD camera is good enough to do the job. This webcam uses an advanced image signal processor to do the computational video work.
Spatial Audio
Whether you use the high dynamic range stereo speakers of the laptop or use the high-impedance headphones to listen to audio, you will enjoy the same theatre-like sound with Dolby Atmos. Also, both audio output units support Spatial Audio.
Thermal Design
As discussed above, the active thermal design of this device is top-notch. Users face no over-heating issues or throttling because of the powerful cooling fans and thermal paste, which dissipates heat from the components to exhaust vents.
Ports
In terms of port availability on this device, you have 2 Thunderbolt ports to let you connect to external monitors as well as you have a USB 4 port and a 3.5 mm headphone jack.
Security
As for security, Apple uses its classic touch ID feature available in all of its devices so only you can safely get access to your system. The Security Enclave on the M2 chip is responsible to let only the registered user login into the computer.
Wi-Fi
The latest MacBook Pro 13 supports Wi-Fi 6 for lightning-fast connectivity.
Virtual Assistance - Siri
Having a virtual assistant do most of your tasks for you is a blessing. In MacBook Pro, you have got Siri to execute commands like sending an email, setting up reminders, and alarms or even playing music for you. Just say, "Hello Siri" followed by your command and you will have a personal assistant right there with you.
Super-Long Battery Life
Not only do you get a long-lasting battery life of up to 20 hours with the 58.2 WH lithium polymer battery in this device but you also can charge it quickly using the 67W W USB-C power adapter. Even if you are surfing the internet, you can get a 17-hour-long battery life.
Order Now
MacBook Pro 13" Z16S000P3 is now available on Paklap for you. It has the highest configuration with 16 GB of unified memory and 2 TB of Solid State Drive along with the fastest M2 chip processor. Do not hesitate to purchase this powerful system which is a style statement on its own. Moreover, if you place an order with us, we offer free shipping in all cities of Pakistan. Those who order from Karachi, Lahore and Islamabad can benefit from our Cash on Delivery service for free as well. You can browse through other Apple products on our website as well. That said, reach out to us on 0304-1113005 if you have any further queries or leave a message on our live chat facility. Somebody will be at your assistance in no time.