Apple MacBook Air 13" - MLY43 - Apple M2 Chip 8- Core CPU 10- Core GPU 08GB 512GB SSD 13.6" IPS Retina Display with True Tone Backlit Magic Keyboard Touch ID & Force Touch Trackpad (Midnight, 2022)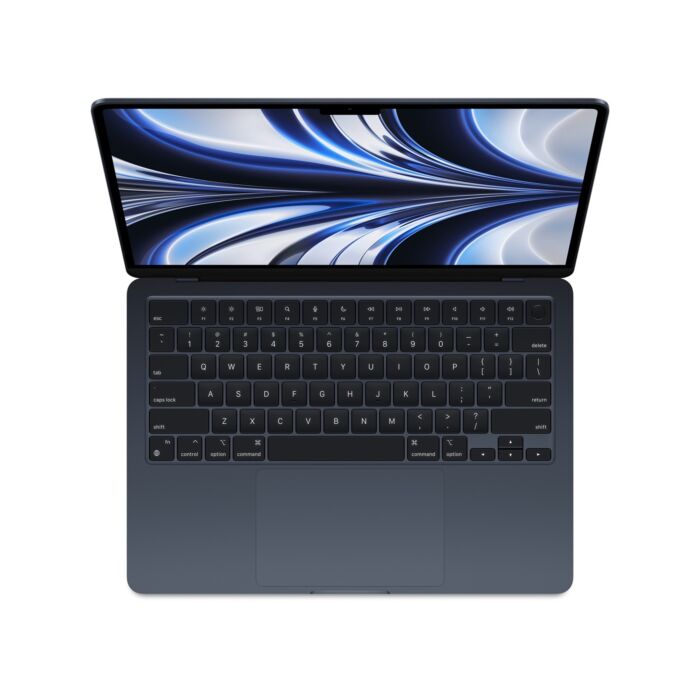 Specifications

| | |
| --- | --- |
| Brand | Apple |
| Generation | No Generation |
| Processor Type | Apple M2 Chip |
| Processor Speed | 8-Core CPU, 10 -Core GPU |
| Installed RAM | 08GB |
| Type of memory | Unified Memory |
| Hard drive size | 512GB SSD |
| Hard drive speed | 512GB Solid State Drive |
| Optical Drive | No |
| Type of optical drive | - |
| SSD | 512 GB SSD |
| Type of harddrive | Solid State Drive |
| Dedicated graphics | No |
| Graphics memory | M2 Chip |
| Type of graphics memory | M2 Chip 10 - Core GPU |
| Switchable graphics | No |
| Graphics processor | M2 |
| Backlight | - |
| Screen size | 13.6" IPS Retina Display |
| Screen surface | 13.6" IPS Retina Display |
| Touchscreen | No |
| Color | Black |
| Weight | 1.24 KG |
| Fingerprint Reader | Yes |
| Numeric keyboard | No |
| Backlit keyboard | Yes |
| Bluetooth | Yes |
| LAN | No |
| Speed | - |
| Wireless/Wifi | Yes |
| Type | - |
| Condition | New |
| USB | No |
| HDMI | No |
| Camera | No |
| Operating system (Primary) | Mac OS |
| Warranty | International |
Apple MacBook Air 13 MLY43 with M2 Chip Midnight in Pakistan
With a number of amazing features that take computing to new levels, the Apple MacBook Air 13 MLY43 is a fantastic addition to the company's inventory. With its state-of-the-art M2 chip, ample RAM and storage capacities, bright display, strong graphics, and elegant design, this laptop makes a strong impression on consumers.
Design
Apple has consistently been associated with elegant and sophisticated design, and the Apple MLY43 is no exception. It's incredibly light and thin aluminum chassis seamlessly combines style and functionality, making it a pleasure to carry. The device's superior build is symbolized by the distinctive Apple logo on the lid. In addition to being aesthetically pleasing, the laptop's thin profile and simple design enhance its portability and make it easy for users to complete work while on the road.
M2 Chip
The M2 chip, which is the brains behind this model, is a game-changer when it comes to performance and efficiency. With improved processing capabilities, the M2 chip builds on the success of its predecessor, the M1 processor, and elevates the game. The 10-core CPU makes sure that demanding apps run quickly and multitask seamlessly. Whether they are using resource-intensive applications, editing high-definition films, or just surfing the web, users can anticipate a flawless experience.
RAM and Storage
With 8GB of RAM, the MacBook Air 13 MLY43 has enough capacity for effective task management and a snappy user experience. Although more RAM configurations may be desired by heavy users, Apple's optimization makes sure that the 8GB option performs admirably in a variety of usage circumstances.
With a roomy 512GB SSD, the laptop has enough storage. Solid-state drives have come to be associated with quicker system responsiveness and data access, and the MacBook Air 13 MLY43 makes extensive use of this technology. Users may save big files, programs, and multimedia content without worrying about running out of space thanks to the generous storage capacity.
Display
The MacBook Air 13 MLY43's 13.6-inch Retina display is very stunning. The images are vivid and lifelike because of their high resolution and P3 wide color range. True Tone technology, which adapts the color temperature of the display to the surrounding illumination, makes for a more comfortable viewing experience.
Slim bezels around the screen maximize screen real estate and contribute to an immersive experience. Every task is a visual pleasure with the MacBook Air's display because it provides clear and detailed images, whether you're working on creative projects, watching movies, or just browsing the web.
Graphics
With the powerful 10-core GPU that Apple included inside the MacBook Air 13 MLY43, graphics-intensive tasks will be done with ease. The laptop offers fluid speed and striking graphics whether you're altering graphics, playing games, or doing other GPU-intensive tasks. Because of the GPU's capabilities, this model is a highly adaptable device that can be used for a variety of professional and creative tasks.
Keyboard and Trackpad
The Magic Keyboard offers a comfortable and tactile typing experience. Long typing sessions are made easy by the keys' pleasing travel and well-spaced arrangement. For easy and safe biometric login, the keyboard also has a dedicated Touch ID sensor.
On the other hand, the Force Touch trackpad provides accurate control. The tactile response of the trackpad's haptic feedback mimics the sensation of a real click. The general usability is improved by the Force Touch trackpad and Magic Keyboard, which guarantee a fluid and simple interface with the device.
Other Specs
There are many more features of this model that you need to know. For quicker and more dependable wireless connectivity, the gadget is compatible with the most recent Wi-Fi 6 technology. The laptop's versatility is increased by Thunderbolt connections, which provide fast data transfer and compatibility.
The M2 chip's efficiency accounts for the laptop's remarkable battery life. With all-day performance guaranteed, this laptop is the perfect travel companion for productivity. The addition of macOS, with its intuitive UI and strong security measures, improves the user experience even more.
Buy Apple MacBook Air 13 MLY43 in Pakistan
Paklap is the name of quality and credibility. Nothing is more important to us than customer satisfaction, so we ensure that you get only the best quality. To explore our products, visit our site or contact us at 0304-111-3005 to learn more about our services.
Brand New Apple MacBook Air 13 MLY43 M2 Chip 8 Core CPU & 10 Core GPU with 8GB RAM & 512GB SSD Midnight Color 2022 Model Latest Price in Pakistan is Rs. 433,900. Paklap offers Free Cash on Delivery Services in Lahore, Karachi & Islamabad.